Systematically Consider the Safety Pyramid in Occupational Safety and Health
(No credit card required)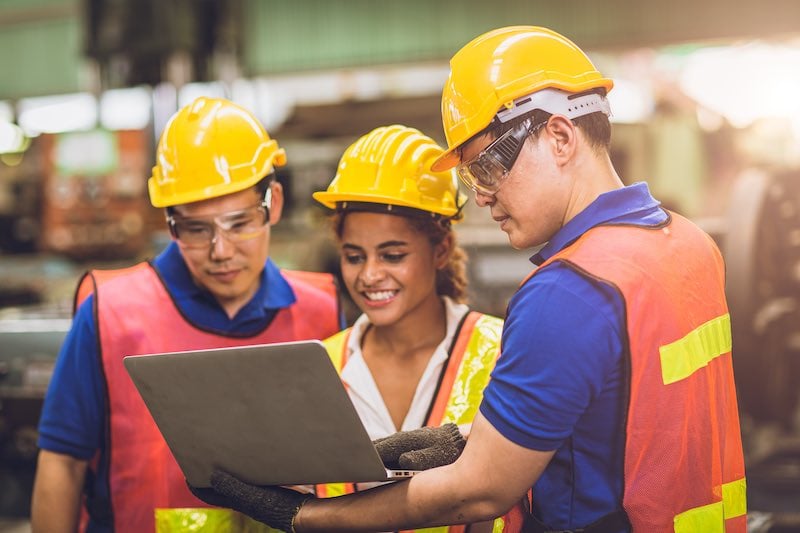 With Timly you always have the occupational health and safety pyramid in view
How to Permanently Improve Occupational Safety With the Digital Personnel File From Timly
The occupational health and safety pyramid helps to present the measures required in companies to comply with occupational health and safety in a structured way. It is based on the well-known accident pyramid, which visualises the risk potential of accidents in the workplace. So-called unsafe conditions regularly lead to accidents, which in turn to a certain extent end with serious consequences or even the death of employees.
Supervisors and managers have a responsibility to take precautions. Timly supports you in integrating the topic of safety into work processes by systematically recording all relevant individual information. The digital personnel file, the maintenance planner and the constant availability of all important facts about all work equipment help in this.
Raising Awareness of Hazards – With the Dupont Safety Pyramid
Graphical representations are helpful in presenting complex relationships in a memorable way. Different models are commonly used for occupational safety, such as the accident pyramid according to Heinrich or the extended version of the safety researcher Frank E. Bird. The DuPont accident pyramid is the most detailed. It does not start with near-accidents, but is divided into five stages:
1. Unsafe behaviour
2. First aid cases
3. Minor accidents
4. Serious accidents
5. Fatal accidents
It is assumed that every tenth incident in levels one to three results in an accident in the next higher category. One fatal accident occurs in every 30 incidents of level four. After a catastrophic industrial accident in the 19th century that claimed 40 lives and almost destroyed the company's existence, the DuPont company introduced a safety concept that is still exemplary today.
This is based on the fact that occupational safety is firmly anchored in the Group's guidelines. Safety officers at all levels and training concepts play an important role. All safety-relevant requirements are laid down and the daily work processes are geared towards compliance with them.
Inventory management software like Timly ensures that briefings and training are easy to plan. The integration of personnel management and inventory software – via the digital personnel file – ensures that a foreman can immediately see whether an employee has the necessary skills to operate a machine. At the same time, he can use Timly to check whether the work equipment is in compliance with the regulations.
Over 400 Companies, Schools and Cities Rely on Timly
DGUV/GDPR Rules Overview: The Occupational Safety Pyramid and How Software Helps With Compliance
The occupational health and safety pyramid presents the obligations that arise for companies and organisations in the field of occupational health and safety. It begins with the constitutional right to physical integrity, from which the state's duty to make legal regulations for the health protection of workers is derived. The Occupational Health and Safety Act and the Occupational Safety Act are of primary importance here. Depending on the sector, there are other relevant standards.
They are concretised in the OSH pyramid by the regulations of the GDPR as well as the German Social Accident Insurance (DGUV), for which committees such as the Committee for Workplaces, the Committee for Occupational Safety and the Committee for Occupational Health Rules are responsible. In addition, special regulations, such as DIN standards and VDI guidelines, must be observed.
The breakdown of the OSH pyramid into ultimately very specialised regulations makes it clear that in order to comply with all regulations, it makes sense for companies to draw up a concept. Software like Timly helps to automate important steps.
The training planner and the maintenance calendar show upcoming appointments in good time. A smart reminder function reminds those responsible, as well as employees themselves, in a timely manner. Once developed, concepts can be permanently stored in Timly. Employees have access to safety instructions and protocols of safety checks directly at the workplace via smartphone or tablet using the Timly inventory app.
Integrating the Occupational Health and Safety Act Into Work Processes With Timly
The Occupational Health and Safety Act, which is binding for all companies and authorities, lists the following essential obligations, among others:
– Taking all necessary measures for occupational health and safety
– Avoiding the risk to workers, also through a risk assessment
– Providing regular instruction
– Ensuring that only adequately qualified personnel are employed
– Documentation of measures taken
– Offers for occupational medical check-ups
These comprehensive requirements alone, as part of the occupational health and safety pyramid, cause an enormous administrative burden in practice. With Timly, however, you can limit it. The software is implemented as a cloud-based service. This means it is available both in the office and at any work location. Employees and managers only need an internet-enabled device.
Measures can be documented, for example, by filling out PDF forms directly at the workplace. Every responsible person can check on site whether the necessary qualifications for operating certain work equipment are available and up to date. Information on the safe condition of a machine is immediately available by scanning the QR code attached to the machine.
Of course, the topic of data security is not neglected when storing personal data for the OSH pyramid with Timly. The servers used comply with the requirements of the German Data Protection Regulation (DSGVO) as well as GDPR. Information is transmitted securely in encrypted form. The authorisation concept ensures that employees can only access content intended for them.
Timly's simple software explained in under 2 minutes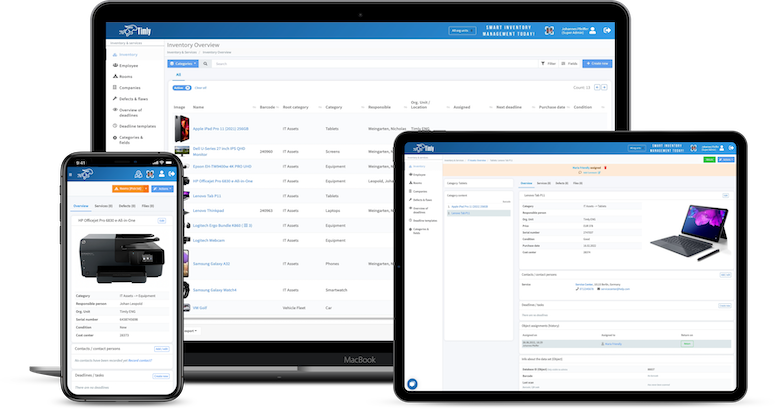 Always Keep Everything in View With Timly
(No credit card required)
Safety Pyramid, Occupational Safety and Compliance: Taking a Holistic View of Safety With Timly
Timly's inventory software follows a holistic concept. All information necessary for compliance with the occupational health and safety pyramid can be transferred to the digital personnel file. Requirements necessary for the operation of machines can be stored directly in the profile of a piece of work equipment. The same applies to safety instructions and points to be worked through during instruction.
Personal protective equipment can be recorded, assigned and managed. From scheduling to monitoring of work areas, with Timly only one tool is needed to comply with the occupational safety pyramid.
Near Misses: Examples and Countermeasures
Near misses play an important role in both the accident pyramid and the OSH pyramid. In this way, appropriate measures can be taken before occupational accidents with personal injury occur.
Possible scenarios are, for example:
-Dangers due to improperly secured objects in warehouses.
-Building defects that favour fall hazards
-Unfavourable work processes that, for example, cause collision hazards with machinery
Timly ensures that contact persons at every level of the occupational safety pyramid are transparent for all employees. By scanning the QR code, it is possible to display the availability of the respective safety officer.
In addition, all work equipment can be firmly assigned to an area. There are no ambiguities about competences and responsibilities.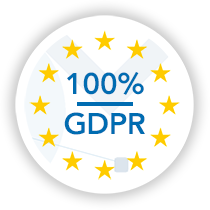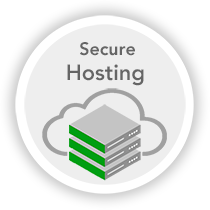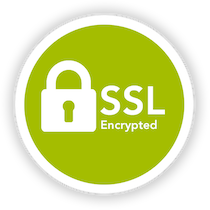 Using the Safety Pyramid to Illustrate GDPR/DGUV Rules – And Draw the Right Consequences
The accident pyramid clearly shows the serious consequences that can result from unsafe behaviour. The occupational safety pyramid is intended to systematically contain these dangers.
Using software like Timly simplifies processes considerably.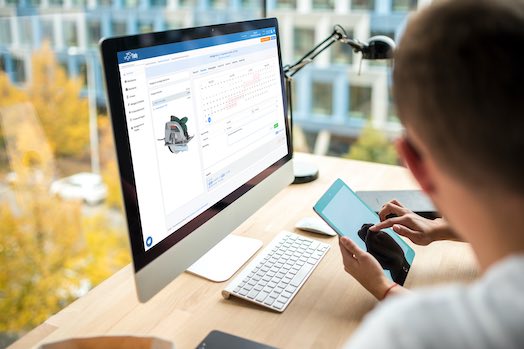 With the smart Timly app, the occupational safety pyramid can always be kept in view
Information that would otherwise have to be laboriously linked manually is available in a bundle. Not in the office of a security officer, but with the Timly app where you and your employees have to work with it.
Keeping an Eye on the Occupational Safety Pyramid With Timly
The smart Timly software makes it possible to handle the topic of occupational health and safety easily and efficiently at any time.
(No credit card required)
Clever App for All Processes
Keep track of your annual inventory with Timly. Digitise your processes to easily save time and resources. Experience the wide range of sophisticated functions now in advance in a free demo.
Manage All Assets
Whether IT resources, tools, machines, vehicle fleet, furniture or contracts: everything in Timly.
Mobile Available Everywhere
Localise your assets with the integrated barcode scanner for smartphones & tablets.
Clever Assignment
Easily assign assets to people, projects, rooms, locations or external service providers.
Digital File Management
Digitally store important information, files, documents, audit trails & contacts for your assets.
GPS Recording
Save the exact GPS location of your assets with one scan. All GPS data historically verifiable.
Occupational safety and health management is an important step in companies. Smart EHS management software makes it easier to keep track of all necessary regulations, safety checks, and inspection dates.
Having to plan maintenance can quickly become an unpleasant challenge in companies. It is necessary to determine the current locations, the maintenance status and the most recent measures in advance.
When companies use equipment maintenance software their efficiency increases. Safety checks, maintenance and servicing can be managed and coordinated in a uniform way. The risk of missed deadlines is reduced.