Philips and Timly: Simplifying Everyday Life Through Innovation
Every company has its own unique DNA and distinct personality. Philips' identity is firmly anchored in advanced technology and innovation. The company has been shaping the market with its innovative products since the 19th century. Philips' mission is to offer cutting-edge healthcare technology products "to improve people's health and well-being".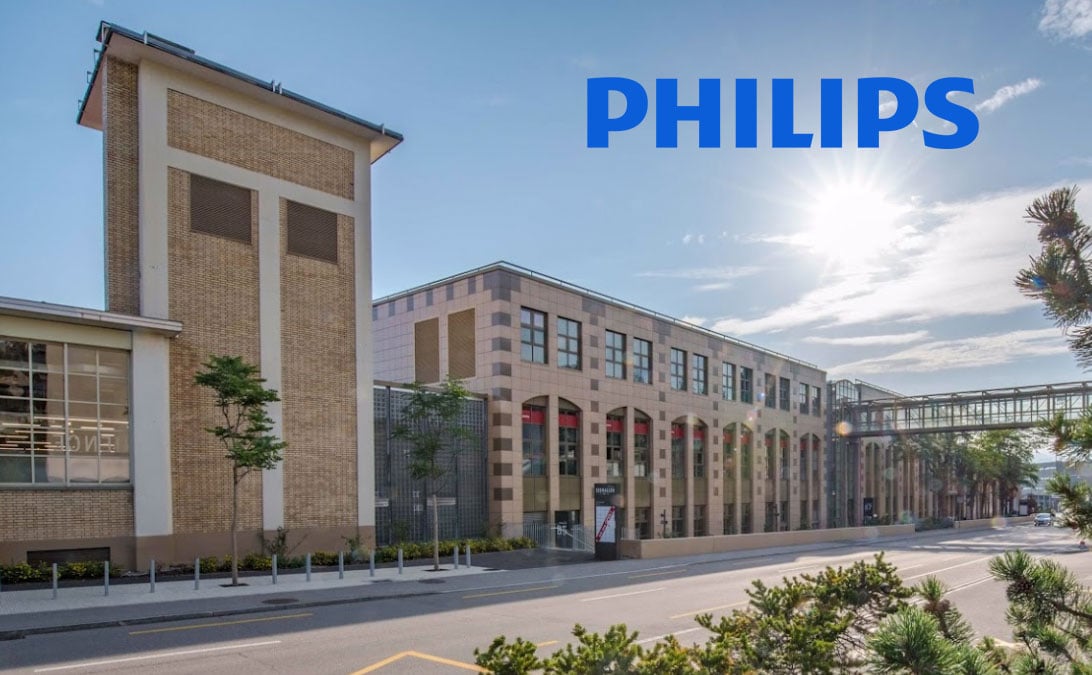 It's no coincidence that Philips' slogan has evolved into "Innovation and You". This dedication to making an impact through meaningful innovation has deeply resonated with consumers. In fact, it's likely you also have owned a Philips device at some point in your life. Yet Philips doesn't just champion innovation in its products: the company consistently integrates advanced technologies into its systems and operations.
This is why Philips Austria chose the Timly Inventory Management software to track and manage their demonstration medical devices. In this case study, we will examine how Philips seamlessly integrates Timly into its daily operations and with what outcomes.
The Challenge: Tracking Medical Devices on Loan for Testing
In 2021, Philips Austria approached Timly with a clear objective: to improve the tracking of their fleet of demonstration medical devices. To grasp the importance of this for Philips, we need to remember that Philips, among other things, produces advanced medical equipment that is the pinnacle of technological advancement. These devices are tailored to integrate with a variety of healthcare settings, from private practices to large hospitals. Within the medical field, the quality and innovation of these devices are widely recognised and respected.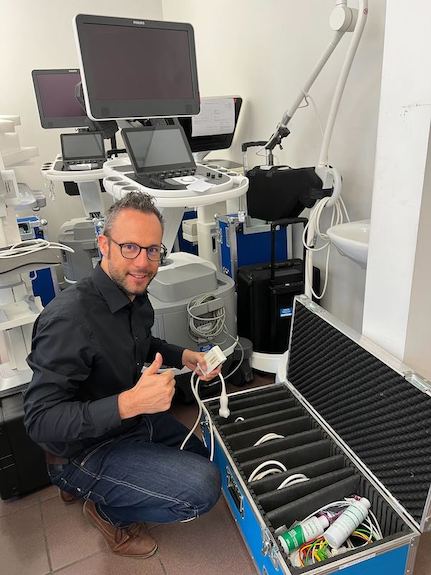 Philips employee, Michael Wild, setting up the equipment demonstration systems
Philips offers its partners what they term "demonstration systems". When a facility is interested in a medical device, Philips loans them a demonstration device for several months so they can determine if the equipment suits their needs. These devices are not for sale or rental, but for testing.
Given the significant size of these machines, it is unlikely they ever get misplaced. However, there is a tangible and recurrent risk of smaller, individual parts being lost. These parts, besides being expensive to replace, are essential for the devices to function properly. Against this backdrop, the multinational firm sought a software solution to oversee and track these demonstration systems and their components.
The Solution: Triple Tech – Philips, Timly, Adnexo
The initial step to streamline their demonstration system operations saw Philips taking an inventory of all equipment and related items. During this inventory process, Philips outfitted the hardware with special devices—smart GPS trackers fitted with batteries. These trackers are supplied by Timly and are produced by our partner, the Swiss company adnexo. A refined logistics setup was then established:
1. Philips enclosed the medical equipment in cases, affixing a smart GPS tracker to each of these top "containers".
2. For every object within each of the cases, Philips created a record within its Timly inventory management system in order to manage and track these individual assets.
3. Using the GPS tracker Philips was now also able to track the whereabouts of its medical equipment in real-time.
4. In addition, by activating the Timly scheduling function, Philips was able to greatly optimise the reservation and allocation of equipment to facilities.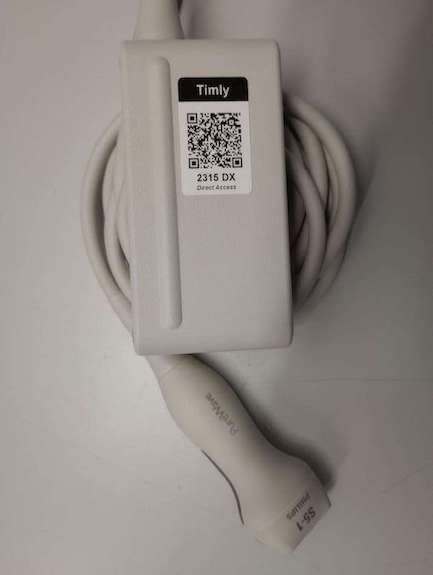 Philips electronic probe tracked with a Timly QR code
Focus on Scheduling
For Philips, managing the demonstration system means having to maintain a clear overview of which equipment is allocated to which facilities and clients. This is where the planning and scheduling function in Timly has proven particularly useful, i.e. the scheduling calendar. To illustrate this: when a Philips' representative visits a partner facility that is interested in testing a specific device, he or she can use the Timly software on the spot to access all relevant details. For instance, they can digitally reserve a specific item from date A to date B and assign it to client X. This way, other colleagues at Philips can see information about a device's availability, loan history, etc.
Once a device is allocated for testing, logistics staff receive an automated email via the Timly app. This email alerts them that the designated device is now expected by facility Z, prompting them to prepare the item for dispatch. With Timly's detailed user permissions settings, Philips can tailor what access any given user should be granted within their Timly asset tracking account, the information the user can view and the actions they can take.
Real-time tracking is possible thanks to Timly's integration of the adnexo's AX Track platform within the Timly inventory management solution. This capability means Philips can ascertain at any time where the device is and that it is where it needs to be.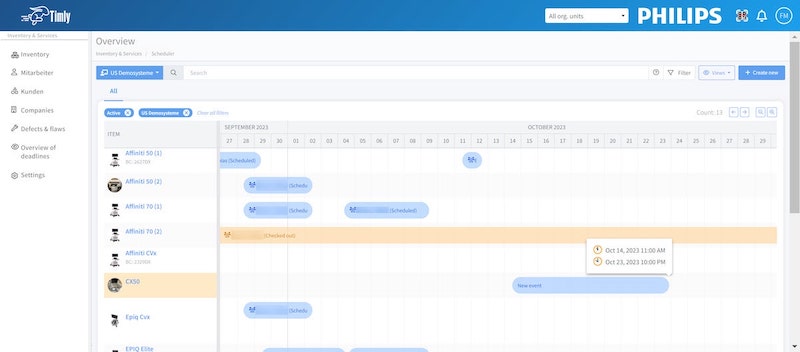 Philips is using the scheduling functionality in Timly
Focus on adnexo Tracking
The Swiss company adnexo has pioneered the AX-Track technology. Within Timly, users can simply select Live Tracking to be seamlessly directed to the AX-Track platform. There, they can access real-time data about their assets, including its precise location. This integration guarantees precise asset tracking, providing users with up-to-the-minute information
GPS Tracker
Thanks to the adnexo smart GPS tracker offered by Timly, Philips can now monitor the movements of their demonstration systems in real-time. This ensures that orders are dispatched promptly to the correct location, and Philips always has an overview of where their devices are located.
Asset Management
Philips Austria now has a comprehensive overview of its demonstration device fleet. Employees can allocate medical equipment to clients, schedule them, automatically notify logistics personnel, and ensure that all logistical arrangements are in place from start to finish.
The Result: Full & Effective Management of the Demonstration System
With the joined capabilities of Timly and adnexo, Philips can track and manage its demonstration system in real-time across any device. This ensures efficient communication and coordination among all stakeholders, from Philips employees to external partners and clients. Every detail and activity associated with an asset is diligently logged in Timly. A distinctive feature of Timly is its exceptional customisability: it's versatile enough to adapt to any industry, suitable for businesses of all scales, and proficient in managing both tangible and intangible assets.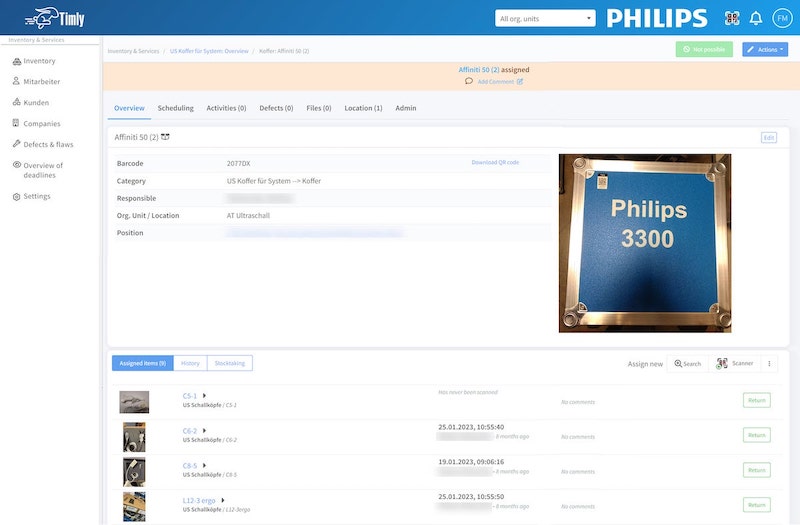 A Philips coffer, used as a 'container' in Timly, is affixed with a QR to track enclosed assets
For Philips, the advantages are clear: the logistics for demonstration equipment are optimised, the time spent searching for items are significantly reduced, and tangible savings in time and resources are achieved. The days of interruptions due to misplaced parts or uncertainty over equipment allocation are over. With the detailed tracking provided by Timly's inventory management software, Philips maintains a comprehensive view of their equipment's whereabouts at all times.
We are immensely proud to count Philips among Timly's valued users and being able to support them in their mission of bringing "meaningful innovations that shape the future of healthcare".
You Too Can Benefit From Timly – Digital Asset Management