On this page you will find information on the following topics: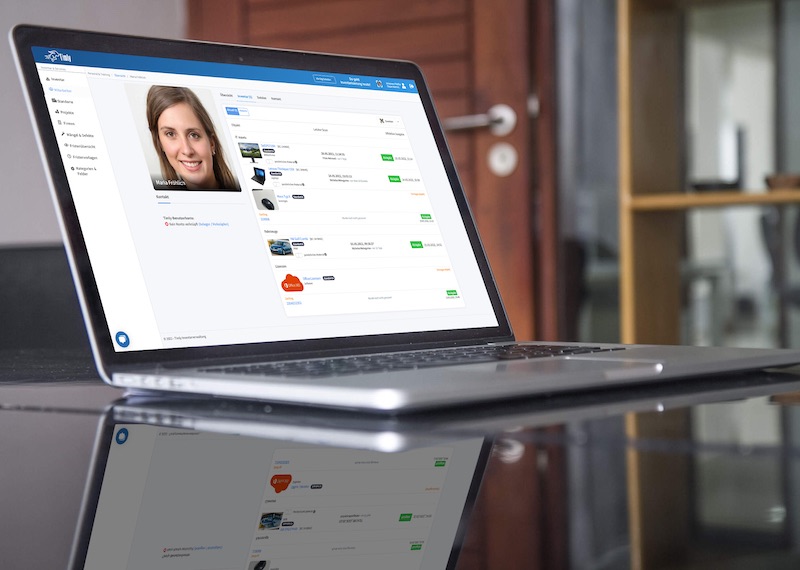 Timly's IT asset management software provides a quick overview of all IT equipment
IT Asset Management as a Challenge for Companies
IT managers in companies and organisations today are faced with the task of managing a wide variety of IT assets. Intuitive IT asset management software makes this task a lot easier.
But what exactly is the particular challenge in managing IT assets? It is not without reason that IT asset management (ITAM) has developed into its own specialist field within information technology. IT managers are sought-after specialists in their field.
The task is by no means fulfilled by merely managing resources and ordering supplies for them when needed. The task of asset management has become just as complex as the IT infrastructure in most companies.
Physical and virtual components have to be managed. Software licences are sometimes firmly linked to hardware. Being able to recognise some components in the network is no longer easily possible. Network components are outsourced to the cloud or permanently installed in the building.
Keeping an overview here is not possible with simple lists or tables. With the IT asset management software from Timly, you have the possibility to record all IT assets in a meaningful way. The following article explains how this works and why it is so important.
What All Belongs to IT Asset Management?
IT asset management (ITAM for short) accompanies all IT assets of a company during their entire life cycle. The aim is to consider all individual components that have their own maintenance, licensing or replacement intervals.
A company's servers, for example, comprise a server cabinet, usually several rack housings, the hard disks inside and various software licences. The server cabinet contains electrical equipment that is subject to the so-called E-check. The rack components are used for a certain period of time and then replaced – mostly depending on the duration of the equipment warranty. The service life of hard disks can deviate from this. In some cases, regular, precautionary replacement is recommended to protect against failures. Component replacement and new purchases cause not inconsiderable costs and workload.
This calls for strategic decisions in service management that require a careful cost-benefit analysis. Particularly in large companies, standardisation for procurement and determination of the respective life cycle of IT assets makes sense.
In order to develop the best possible standards and make sustainable procurement decisions, those responsible need a solid data basis. Ultimately, this can only be generated with the use of IT asset management software. An isolated asset management platform for asset inventory is not sufficient. Far-sighted results can only be achieved if there is precise monitoring of costs for acquisition, maintenance, repairs and replacement parts.
The developers of Timly have recognised this and, with their IT inventory software – which is available as a mobile app – offer a way to holistically record IT assets and accompany them for the duration of their use in a company.
Over 400 Companies, Schools and Cities Rely on Timly
How the IT Asset Management Tool Timly Works
Timly is a flexible inventory software that takes a holistic approach. This means that there is a uniform database that is worked with in all departments of the company. It is also possible to integrate individual external employees or cooperating companies.
The software is designed in such a way that all assets of a company can be meaningfully recorded with it. This is ensured by flexible categories that can be precisely adapted by those responsible to their asset management concept. This makes it possible to map the necessary parameters of any work equipment in the IT area – but also beyond.
In addition, links are possible in the IT asset management system. Objects can be assigned to locations, employees but also to other assets. For example, a physical server can be given the attribute "container object" and then be assigned virtual machines and licences running on it.
The same applies to the peripherals required at a workstation, such as monitors, keyboards and other input devices. Each asset is given a QR code when it is registered. This is attached to physical objects by means of a sticker. By scanning the QR code, the profile of an object can be called up.
This makes it possible to determine locations and responsible persons for each inventory item without any effort. The IT asset management software thus allows for seamless asset tracking of any hardware and software inventories.
IT asset management software from Timly explained in under 2 minutes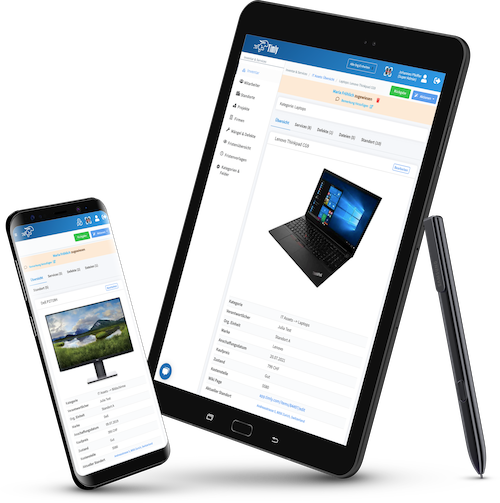 Inventory your IT equipment efficiently with Timly
(No credit card required)
Flexibility Through Cloud Connection and Timly App
To ensure that access to the data is uncomplicated and yet secure, Timly's IT asset management software uses a GDPR-compliant cloud storage for filing. The necessary data protection is ensured by a fine-grained authorisation concept, with which employees are only granted the necessary rights.
The costs for hosting the cloud are already included in the overall package. The advantage of this solution is that those responsible do not have to worry about integrating Timly into the company's internal network and can still work with the data at different locations and on their mobile devices. All that is required is an internet connection.
The Timly inventory app, which is optimised for smartphones and tablets, ensures easy operation. It makes it possible to scan the QR code with a camera and access the profile of a physical asset, digitally. This allows employees to view relevant information as well as add to it in real time – for example, by reporting malfunctions.
If desired, this can be integrated into a ticketing system that generates repair orders to the service desk or external companies.
All Appointments at a Glance – The Timly Calendar Function
Each hardware and software asset has its own calendar in Timly. Upcoming maintenance and inspection dates can be entered here. Licence expiry dates can also be easily entered here. Once noted, there is hardly any risk of overlooking appointments. This is ensured by the option to be reminded by e-mail and the practical deadline overview.
Responsible persons can also be stored in this overview. This makes filtering possible and each member of the IT team can see at a glance the tasks that are pending for him or her. Once a task has been completed, it is marked as done in the system. In addition, it is possible to store documentation about work that has been done or test reports that have been received. When decisions have to be made, all the necessary information is available in the IT asset management software on a daily basis.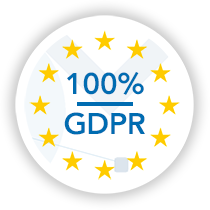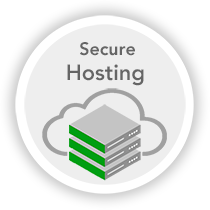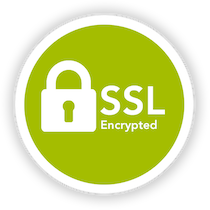 IT Asset Management Software – It Pays to Compare
The introduction of comprehensive IT asset management software in a company must be carefully considered. Timly offers interested parties the opportunity to test the functional scope of the software package free of charge.
Apart from financial aspects, compatibility with the company's own infrastructure is an important factor in the decision. A solution can only save money in the long term if it really covers every need.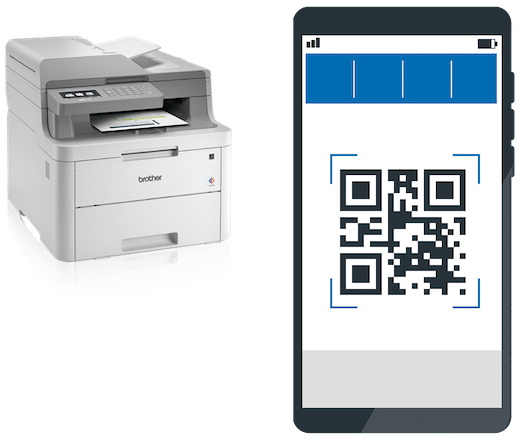 QR codes on IT assets link the physical world with the digital world – one scan and all information becomes visible
One focus of Timly's support team is to be able to import existing data sets into the new system without loss. Once the hardware asset management tool is in live operation, it must be able to fulfil all inventory-related requirements. It should no longer be necessary to keep further lists of hardware and software assets.
IT Asset Management Software: Open Source as a Solution?
In the environment of an IT department, the use of open source solutions often has a high priority. This is not surprising, since experts working there can precisely understand the functionality of the software used on the basis of the freely available source code. However, the functional scope of open source software is usually not comparable to that of commercial IT asset management software.
The hosting of cloud storage, the permanent further development of the software and the provision of a trained support team are cost-intensive. For the customer, the use of a tried and tested commercial solution saves the working time of their own employees. Timly's developers and support staff take care of any problems that arise.
The exchange with existing customers ensures that many requirements are already taken into account in advance. In the end, company managers regularly come to the conclusion that using Timly's asset management software is the cheaper alternative.
Support for Your Asset Management Process
In order to be able to make well-founded decisions, all relevant information – especially about the costs incurred for an asset – must not only be collected, but bundled. It saves money if the information does not have to be repeatedly updated and linked with each other in tedious detail work.
Timly's IT asset management software does this by permanently recording all the necessary facts. The better the data used in the IT asset management software, the easier the IT asset management process becomes.
Would You Like to Finally Manage Assets Effectively and Reliably?
(No credit card required)
Intuitive Management of Your IT Equipment
Timly gives you access to an efficient IT asset management software. A wide range of sophisticated functions makes it easy to digitalise your IT.
Manage All Assets
Whether IT resources, tools, machines, vehicle fleet, furniture or contracts: everything in Timly.
Mobile Available Everywhere
Localise your assets with the integrated barcode scanner for smartphones & tablets.
Clever Assignment
Easily assign assets to people, projects, rooms, locations or external service providers.
Digital File Management
Digitally store important information, files, documents, audit trails & contacts for your assets.
GPS Recording
Save the exact GPS location of your assets with one scan. All GPS data historically verifiable.
Mobile device management is more complex than it might seem at first glance. At the same time, it is becoming more and more important, as smartphones and tablets now occupy a key position in corporate communication.
If a company uses open source inventory management, this saves licensing costs. Nevertheless, it is advisable to critically question its use. The idea behind open source is to publish the source code of a program so that free developers can work on it.
If you want to use software as an inventory management solution in your company, it is advisable to make a careful selection. Software-based inventory management by no means replaces only static lists.