The Inventory Programme for More Productivity
Speed up your workflow with better inventory management
(No credit card required)
On this page you will find information on the following topics: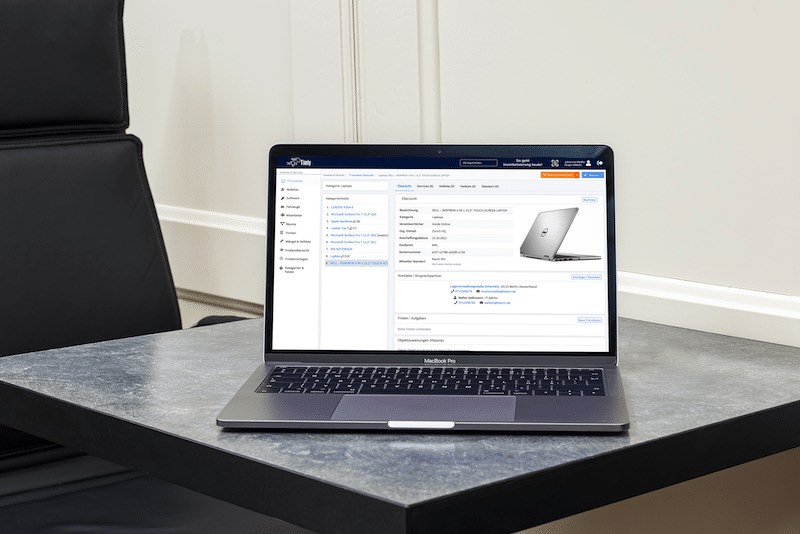 In this article, you will learn how an efficient inventory programme can optimise your workflows.
Digital Asset Management: Your Advantages With Timly
Now that current software solutions for managing everyday tasks have shifted to the cloud, IT inventory is also facing a change. Especially in the context of efficient management of inventories, executed actions and documentation, it is no longer possible to imagine life without a well thought-out software solution.
With the idea of fully comprehensive inventory in the cloud, we offer you the Timly inventory programme as a powerful and hardware-independent cloud based software. Discover the advantages and the range of functions of Timly below and learn how you can use the software for the IT asset management of your company.
Manufacturing companies and companies with large inventories face major challenges in IT inventory and stock management. These often derive from bureaucracy, inefficient use of resources and too little knowledge about alternatives. One such alternative to existing systems is Timly as a fully comprehensive inventory programme.
A user-friendly data collection via smartphone enables every employee to manage and obtain machines, equipment, and vehicles, including the necessary authorisations. Starting with a clear management dashboard and an inventory register to an intelligent notification system, all essential functions can be found in the inventory programme.
This enables your employees to manage inventory with little instruction and training and to record documents in the shortest possible time.
Best Inventory Management Software via Qr Codes – Always With You on the Move
In most companies, documents, audit certificates, and operating instructions are stored in long-forgotten warehouses and offices. When things have to be done quickly, important resources are often lost at this point. In order to minimise this source of error and to increase the usable time of a machine by your employees, all documents can be found in one place in the mobile inventory app.
Information can be obtained in the blink of an eye through QR codes attached to machines, equipment, and vehicles. Further handling of items from the inventory app is also logged here. This means that forms for damage reports, maintenance, stock levels, and deadlines no longer have to be filled out and submitted manually.
With the support of our inventory management software, these are sent to the authorised employee in real time. The same applies to the recording of operating statuses on site: here, an inventory management system via smartphone is much more convenient.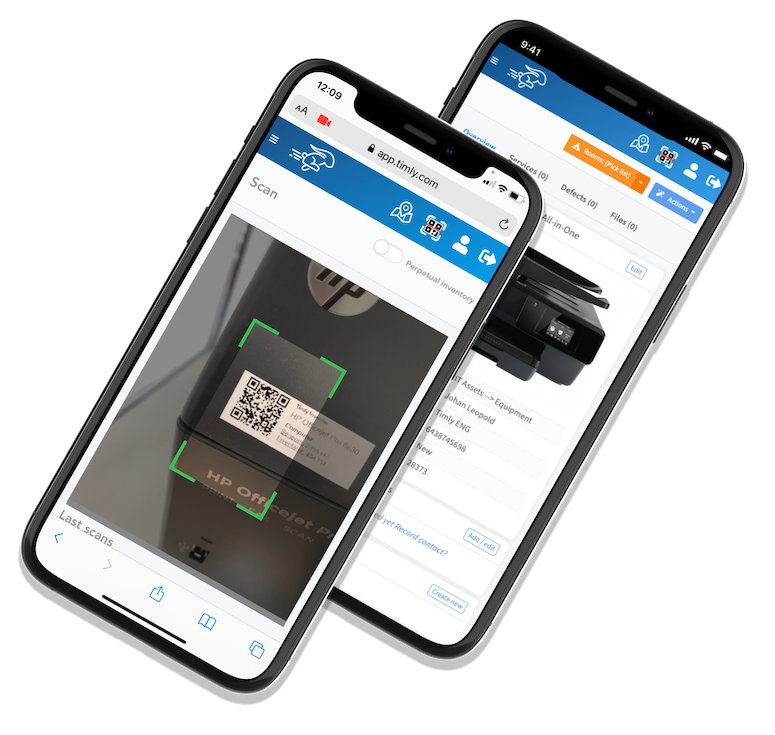 With the barcode scanner you have access to the most important information at all times and in all places
Speed Up Your Workflow With Digital Asset Management by Timly
(No credit card required)
Variable Articles and Own Product Categories
For an inventory programme to meet the needs of any company, inventory management must not be squeezed into a framework. This would be at the expense of flexibility and user-friendliness. For this reason, we offer you maximum freedom in inventory management, thanks to your own product categories and user-defined fields.
In this way, you can manage not only your fleet of vehicles, machinery, and production equipment, but also building technology, electronic equipment, and IT inventory. Thanks to this functionality and flexibility, we can offer you inventory software that can be personalised to the maximum.
The Timly inventory programme is independent of industry and company size. With our attractive packages and scales, you only pay for what you really need. If you outgrow your needs, we also offer customised long term solutions for your company. You can find more information about our conditions on our website.
This Is Why Companies Opt For IT Asset Management With Timly
The choice of an inventory programme has many advantages over the manual management of inventory. Especially in companies that currently work with old technology and only centrally, Timly's inventory management opens up new possibilities. We would like to show you these in order to better visualise the advantages of the range of functions. Pay attention to aspects that can bring your company forward.
Overview of the entire inventory

"Do we actually have… ?", "Are there still… ?" and "Where is… ?" are the most unpleasant sentence starters when it comes to efficient work. With the Timly inventory programme the entire inventory of your company is digitally mapped.
Many of these questions can now be answered with just your smartphone and in a shorter time. Lengthy searches for items that are supposed to be there are now a thing of the past.
Less material loss and search effort

The Timly inventory programme minimises your search effort and material loss by up to 75%. Especially large operating sites benefit from the fact that all objects and equipment can be easily found.
Among other things, we ensure this by assigning material to employees and locations as well as GPS tracking. You can find out more about this further down in the text.
Inventory tracking
Tracking usage of various items and equipment is one reason why companies rely on the Timly inventory programme. The electronic allocation of items ensures that employees are more responsible with allocated material.
Tracking is stored in a history and does not end when an item is returned. The transparency in inventory management is a powerful feature here for authorised persons.
Easy usability
Another advantage is the hardware-independent operability. Your employees can work with their existing smartphone in a resource-saving way, which reduces costs, downtime, and training times.
With Timly's inventory programme, you always receive all data from the cloud. You no longer have to worry about manual data collection and backup: we support you in this.
Over 400 Companies, Schools and Cities Rely on Timly
Assign Assets to Your Employees
Employees of your company always have their own material list. Thus, with the help of an inventory programme, you can be sure where material and equipment are located. This form of inventory management is particularly useful if you have a large number of employees and do not want to lose track of your work equipment.
QR codes are also used for allocation in IT inventory. These are used as a uniform identification method throughout the entire inventory software. This is a simple form of allocation, especially for less technically experienced employees.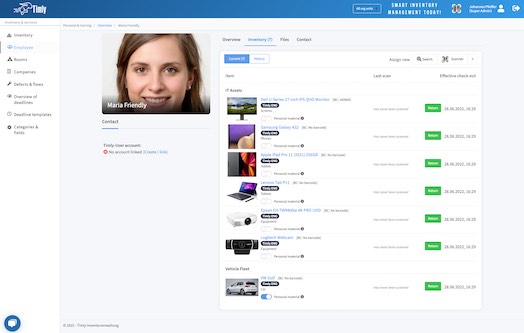 Maximum flexibility: In our inventory software you can assign inventory to your employees
Do you want to track inventory as well as damage or shrinkage? The history of the respective item helps you here. This means that the transparency of use does not end with the last user, but continues beyond that. Rely on an inventory app for your IT inventory and keep your head clear.
All Vehicles in One Place: Web-Based Inventory Management
The mileage, locations and records of vehicles should always be up-to-date and documented. This can have insurance-related reasons, but mostly they are essential sources of information for controlling and accounting. In addition to equipment and vehicle information, the inventory programme also offers documentation of deadlines and dates, for example for maintenance.
Created inspection reports can be attached and uploaded within seconds. This decentralised form of storage in the cloud allows authorised personnel access in real time.
Tip: With Timly's inventory programme you also use all CRM functions. We recommend that you store all contact details for service partners, technicians and contact people here. This guarantees you a quick connection in case of queries. The e-mail address and extension number of the right person makes all the difference here. This way you and your employees always know who is responsible for which asset.
If there are problems with tracking company movements, our GPS tracking can help. Here, location information is recorded and movements of, for example, construction equipment are stored in the cloud. This happens completely automatically and creates security and clarity in inventory management.
The Inventory Programme for Operational Excellence
(No credit card required)
Geo-Tracking of Objects and Vehicles
In Timly, objects can be tracked and determined via GPS tracking. This applies to equipment as well as machines and vehicles. The real-time tracking function is ideal for more valuable inventory. Here, entire routes of your objects and vehicles can be shown on the map of the inventory programme – historically traceable.
Together with the assignment of employees, geo-tracking in Timly is a secure way to keep track of everything. We offer live tracking and other services in the area of sensors & GPS tracking together with our technology partner adnexo, which specialises in this area.
Do you have vehicles, construction machinery or containers in use? If so, ask yourself whether you would like to use them more sparingly in the future with the help of efficient tool tracking. This is made possible by Timly – the inventory programme for a 360° overview of your inventory. The intuitive user interface allows you to optimise all processes in inventory management.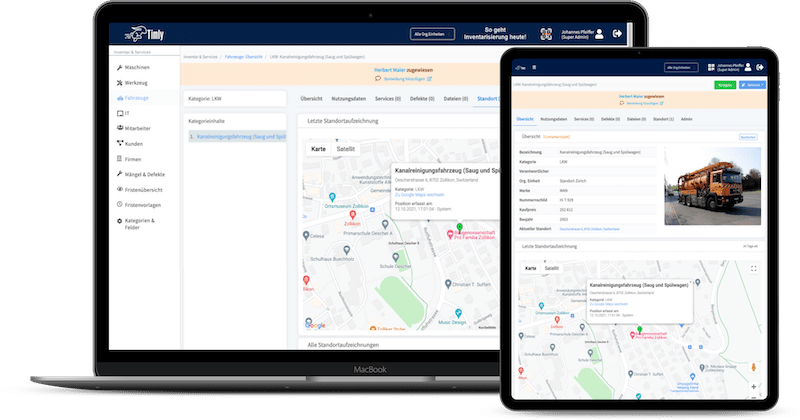 Real-time tracking of equipment and vehicles in Timly inventory software
Collect and Evaluate Performance Information
Until now, operating hours and mileage had to be entered manually into accounting programmes in many companies. This step costs a lot of time. In addition, a statistical evaluation of the entered data in comparison to different time intervals and usage periods is often missing.
In a modern inventory programme, you can record and forward all performance information. In this way, you provide your accounting system with mobile recorded data of equipment and machines.
Timly has many export formats for accounting programmes. This allows you to integrate all information from your performance recording into existing systems of your accounting department. Such features are necessary, which often makes Timly the first choice for companies looking for an inventory programme.
Operating hours of machines and equipment
The recording of operating hours is important in order to have valid data for price determination in cost accounting. They are also used as a benchmark for maintenance contracts and service appointments. In order to always have an exact overview, operating hours can be optimally documented with our inventory software.
Individual fields for items
A battery only lasts 1,000 charging cycles? In this case, it would be good to know how many of these you have already used. To do this, define the charging cycles in Timly as an individual field. You can do the same with the number of activities carried out or similar. Whatever is necessary for you can be defined in the inventory programme.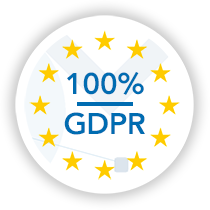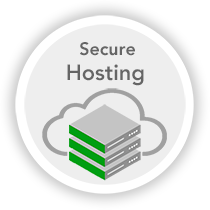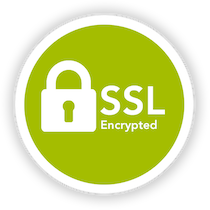 The Easy-Inventory Programme for Your Success
➠ Deadline monitoring from anywhere
Whether in the office or field service, on construction sites or in home office: as soon as an important deadline is coming up, you certainly want to be informed. Of course, this also applies to maintenance, servicing, and much more. Besides internal deadlines, it is these external obligations that often get lost in the private calendar.
Therefore, our inventory programme offers a separate dashboard for recording and tracking such deadlines. Have a clear overview and notify those responsible via a uniform system. This range of functions is ideally suited for a larger fleet of machines or vehicles.
But even a small business with a lower volume should always be aware of current deadlines. Expiring leasing contracts, electrical inspections, inventories or recurring customer appointments can also be easily and effectively mapped in Timly.
➠ Record damage and report defects
As annoying as damage is, it is an inevitable part of every business. It does not even have to be self-inflicted damage. Goods can also show a defect in the IT inventory.
To avoid losing valuable time in inventory management, damage and defects can be easily documented with a smartphone. These reports are saved in the inventory app and can later be accessed in Timly by authorised persons at any time.
In order to advance the tracking of damages, Timly as an inventory app supports the possibility to take pictures of the damage. With a direct upload of the pictures via the smartphone, you save time again. The damage and the pictures can be assigned to a product or device by scanning a QR code. Damage reports without assignment are now a thing of the past.
➠ Inventory made easy: The Timly mobile app
When it comes to taking inventory of a warehouse or business, technology is a means to an end. Therefore, everything should function smoothly in order to obtain a clear overview of the inventory of goods and equipment. This form of inventory control can be optimally implemented with the inventory programme from Timly. Once again, the smartphone is used as the only hardware component.
This makes IT inventory a piece of cake with little effort in training the staff. Through the comparison with your inventory programme, shortages and shrinkage can be quickly detected. Thanks to the other functions such as tracking and history, the causes of shrinkage can be quickly found.
At best, the employees can provide information about the work material in the history or point it out. The coherent system of IT inventory also proves here that inventory management with an inventory app saves resources in the company.
➠ Data protection is a top priority for us
Your data is confidential: that's why we protect it. With a consistently encrypted data exchange (HTTPS), we prevent third parties from recording your data. Daily backups of our servers also ensure that no data is lost. Customer data is stored securely on German servers with ISO/IEC 27001 certification.
These GDPR-compliant servers are located in a data centre in Frankfurt. Don't worry about storing your data with our inventory programme. We always use the latest technologies to ensure the greatest possible level of security. This is how inventory management in the cloud works today.
Intuitive Management of Your Assets
With Timly you get access to an efficient inventory programme. A wide range of sophisticated functions makes it easy to digitalise your inventory.
Manage All Assets
Whether IT resources, tools, machines, vehicle fleet, furniture or contracts: everything in Timly.
Mobile Available Everywhere
Localise your assets with the integrated barcode scanner for smartphones & tablets.
Clever Assignment
Easily assign assets to people, projects, rooms, locations or external service providers.
Digital File Management
Digitally store important information, files, documents, audit trails & contacts for your assets.
GPS Recording
Save the exact GPS location of your assets with one scan. All GPS data historically verifiable.
Conclusion: Time Saving and Clarity Are Essential
Nobody can remember everything. For this reason, we rely on documentation in the form of lists and protocols. What started as a simple concept with paper and pen has developed into a digital necessity in the context of digitalisation. For this reason, inventory management with the help of an inventory programme has become indispensable for companies.
Especially the ability to document statements and inventories nowadays legitimises the implementation of a modern inventory software. Timly, with the functions mentioned above, is a way to document and manage all work equipment.
We strongly recommend considering the use of a software-based inventory management system. This is a future-proof way to replace old systems on local computer systems and work in a modern way with your smartphone.
Moreover, the effort of entering existing products is only a fraction of what Timly could save you in terms of time in the coming years. Furthermore, there are connections via interface to common peripheral systems such as accounting software or CRM. Timly also offers the possibility to import an existing inventory list via Excel/CSV.
Timly Software AG: Your Competent Partner for Digital Inventory Management
Now you have experienced the advantages of managing your inventory items through an inventory programme. Were we able to inspire you to use our inventory programme? Then arrange a free and non-binding demo of our inventory app. We will show you live and in action what Timly has in store for you as a modern inventory management system.
Do you still have open questions? If you prefer, we can advise you on Timly and show you how your company can save time and resources in inventory management. Join us in breaking new ground in the modern way of inventory management. We look forward to your enquiry and to being able to advise you on our solutions.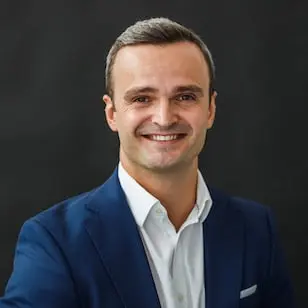 Fitim Mehmeti, Co-Founder Timly Software AG
"With our inventory solution, we provide business partners with a lean and user-friendly tool that can be flexibly adapted to the needs of the company.
The many customers from different sectors such as the construction industry, IT service providers, logistics companies, clinics, craft businesses, schools, or municipal enterprises testify to this.
Every successful company has assets. The more of it, the more difficult it becomes to manage without proper digital support. With Timly, you have your inventory under control."
Occupational safety and health management is an important step in companies. Smart EHS management software makes it easier to keep track of all necessary regulations, safety checks, and inspection dates.
Mobile device management is more complex than it might seem at first glance. At the same time, it is becoming more and more important, as smartphones and tablets now occupy a key position in corporate communication.
The occupational health and safety pyramid helps to present the measures required in companies to comply with occupational health and safety in a structured way. Managing every aspect of it can be difficult but using the right software helps.