On this page you will find information on the following topics: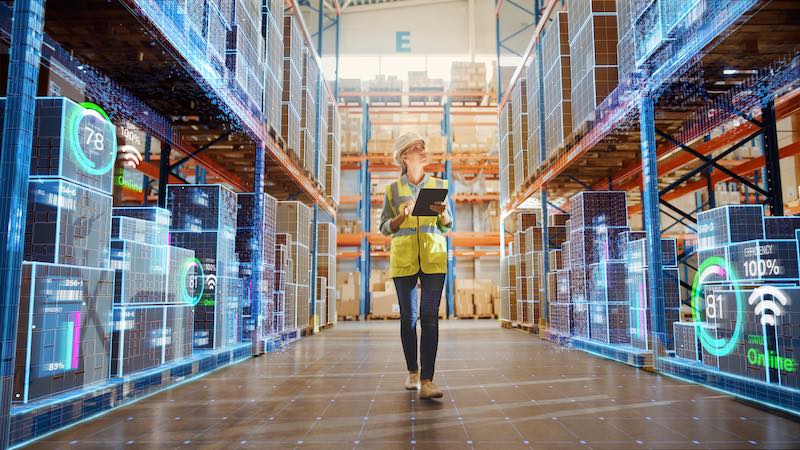 Thanks to the innovative inventory software with barcode scanner, you have an overview of your inventory from anywhere
Advantage Through Inventory Programme With Scanner
Whether it's an annual inventory, a perpetual inventory or a postponed inventory – most companies are obliged to take an inventory of their assets, which is bothersome and time-consuming. Each type of inventory offers its advantages and disadvantages. Ultimately, however, all are labour-intensive and have the potential to disrupt business operations.
Timly has addressed this problem by integrating several solutions into its inventory software with barcode scanner. Take advantage of the convenience features of holistic inventory management with Timly. Once the stock and material inventories have been recorded, you will save a lot of time and money during the annual inventory.
Timly accompanies inventory in a company throughout its entire useful life. The software is designed in such a way that you can use it to record almost all conceivable items in a meaningful way. This is ensured by dynamic container objects that can be adapted to the individual needs of a company. Each asset receives a sticker with a QR code (barcode labels). The profile of the inventory items can then be called up via scanner. The data stock is securely stored in a cloud storage hosted by Timly. GDPR compliance is guaranteed by the server location in Germany.
The Timly inventory app for smartphone and tablet offers particular flexibility. This allows every employee to make entries with their mobile device and view the recorded data. The special inventory mode turns Timly into an inventory software with barcode scanner. Simply scanning the QR code is enough and the item is ticked off. Creating and distributing inventory lists are no longer necessary.
Likewise, you do not need any additional hardware during the annual inventory. The existing inventory software is sufficient to process the barcode. All employees involved in the inventory receive access to the inventory system and can then use their smartphone to record the data.
Perpetual Inventory as an Alternative
Timly makes it easy for you to integrate inventory into normal work processes through its inventory software with barcode scanner. This is an advantage if you opt for perpetual inventory. This way, keeping a stock book is not necessary. Every employee can permanently post receipts and issues in the inventory.
Even the physical inventory, which is mandatory once a year, can be carried out with Timly without much effort for each employee at his or her workplace. Since the exact time for this is not fixed, it can be done, for example, during maintenance or clean-up work that is due anyway.
Find out how the SodaStream company benefits from the inventory software in this short video
Manage Your Assets Digitally in Just a Few Clicks With Timly
(No credit card required)
Is There Powerful Inventory Software Available Free of Charge?
In this day and age, users are used to receiving programmes for many application purposes free of charge. For private use, these are often sufficient. For more complex tasks such as inventory management, however, it is advisable to rely on a professional solution such as the inventory software with barcode scanner from Timly.
Behind the complete package is a highly motivated and innovative team of developers. This team is constantly working on improving the software and also responds to individual customer requests. Timly's trained support staff help at short notice with any questions and problems that arise. Free software, on the other hand, usually only covers part of the required range of functions. For understandable reasons, the developers of free software usually cannot offer service and support.
Use Excel Template for Inventory – Does It Make Sense?
Lists of all kinds are kept in many companies with Excel. Excel files are universal and most employees can use the programme at least rudimentarily. However, Excel spreadsheets are not suitable for every purpose. If many employees have to work on a data set at the same time, the spreadsheet programme reaches its limits.
In addition, the clarity of large tables is a problem. This slows down work processes and increases error rates. Excel is rather unsuitable for tablets and smartphones. Although there are mobile versions, entering values using the on-screen keyboard is a challenge even for experienced users. If, on the other hand, you rely on Timly, your employees can also scan the barcode of an item in warehouses and workshops using the inventory software app. This makes inventory simple and intuitive.
Over 400 Companies, Schools and Cities Rely on Timly
Practical Example SodaStream
More and more well-known companies are relying on Timly. SodaStream is one of the satisfied customers. The well-known manufacturer of water bubblers now has numerous employees working in the home office.
What is good for the individual, presents those responsible with a logistical challenge when it comes to inventory. A not inconsiderable part of the inventory is in the possession of employees who rarely visit the office. SodaStream and Timly have found a joint solution for this: self-inventory.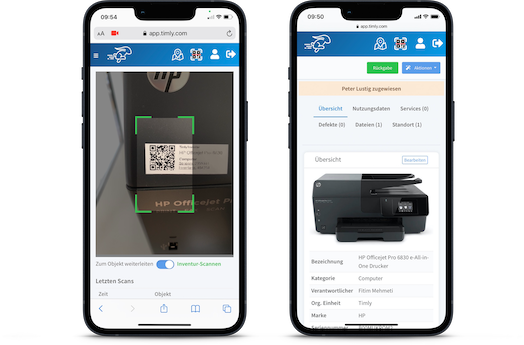 With the Timly app, SodaStream can also record the IT equipment of employees in the home office
When the annual inventory is due, those responsible send an automatically generated invitation for self-inventory to all employees concerned. They are given a deadline by which they have to scan the barcode of the work equipment assigned to them with the inventory software.
In the Timly administration view, those responsible can see who has already completed the inventory. It also shows whether the inventory was successful, i.e. whether all items are present. The innovative function of the self-inventory is a great work relief for all companies that have many branches, field staff or remote workplaces. The administrative effort is minimised and central control of the inventory is no longer a problem (inventory control via app).
Professional Inventory Management Facilitates Stocktaking
Work tools and resources have become expensive and scarce in many areas. Professional recording and digital monitoring increase effective use. Those responsible know permanently where work equipment is and what condition it is in.
This advantage pays off especially when it comes to stocktaking. It does not matter which inventory method is used in your company. Your employees only have to scan the barcode with the inventory software. There is no simpler and more intuitive way to take inventory. If you want to see for yourself, you can register for a free test account. Afterwards, you will immediately have full access to all functions.
Experience the Timly Software Free of Charge as a Demo
(No credit card required)
Intuitive Management of Your Assets With a Barcode System
With Timly you get access to an efficient inventory software with barcode scanning. A wide range of sophisticated functions allows you to easily digitise your assets.
Manage All Assets
Whether IT resources, tools, machines, vehicle fleet, furniture or contracts: everything in Timly.
Mobile Available Everywhere
Localise your assets with the integrated barcode scanner for smartphones & tablets.
Clever Assignment
Easily assign assets to people, projects, rooms, locations or external service providers.
Digital File Management
Digitally store important information, files, documents, audit trails & contacts for your assets.
GPS Recording
Save the exact GPS location of your assets with one scan. All GPS data historically verifiable.
Explore 7 key factors for choosing the ideal inventory management app for your business. Streamline inventory management and enhance efficiency with our expert insights.