Instead of Stress at the End of the Year: Use the Year-Round Digital Inventory
(No credit card required)
On this page you will find information on the following topics: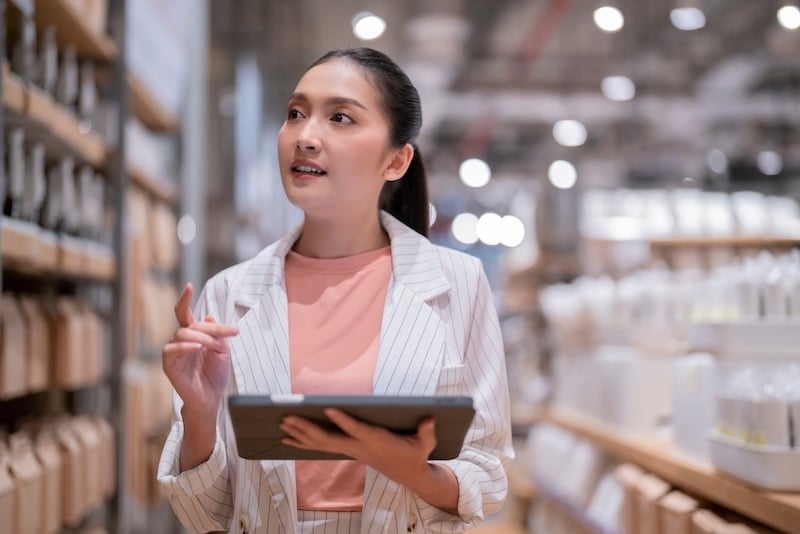 Companies can save a lot of effort with a digital inventory programme
How Can We Digitise the Inventory?
No matter in which industry you ask, the annual inventory is a process that is always associated with considerable effort and sometimes also with some problems. Not every company already uses a modern digital inventory programme. However, such a programme can be a great relief for the employees.
According to the German Commercial Code (HGB), stocktaking is mandatory for all companies that are obliged to keep double-entry accounts. This is comparable to the obligations for companies in the UK. It is customary to view and document all inventory items at the end of each business year. Within certain limits, this inventory may also be postponed. The prerequisite for such a "pre- or post-postponed inventory" is the complete update or write-back of the inventory on the balance sheet date. But why so complicated?
Isn't there an inventory software that helps to manage the inventory throughout the year? In fact, a professional digital inventory programme like Timly takes care of exactly this concern. Those responsible from company departments such as management, controlling, accounting, IT or facility management should therefore take a closer look at permanent, digital inventory.
The prerequisite for this is that employees enter new additions, location changes, defects and other information about the inventory and consumables into the software database in a timely manner. This data is then directly visible to all authorised colleagues with a mouse click or smartphone gesture.
Can Good Inventory Software Be Free?
Questions about the condition, quantity or location of vehicles, equipment, protective material, furniture and more move the employees of many companies every day. Without a digital inventory programme, the search for answers regularly consumes a lot of time. In many places, the annual stocktaking is still carried out in a time-consuming, manual manner. Actual and target states are manually compared on paper lists and in self-made Excel tables.
You may therefore be right to ask yourself whether there is not an inexpensive or even free digital solution. In fact, there are many freeware inventory programmes that offer individual functions for special sectors. However, asset tracking software that is specifically tailored to your needs should be configured by specialists and be able to do more than just solve detailed problems. The data collected should be processed and used in the digital inventory programme in the way that is most helpful for your company.
The digital inventory programme Timly explained simply in 2 minutes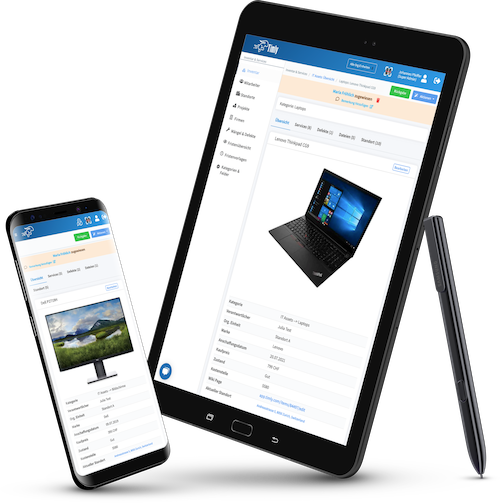 Digital Inventory Programme – The Free Demo From Timly
(No credit card required)
The Advantages of the Digital Inventory Programme With Qr Code
A fee-based inventory solution is not only individually adapted to the customer, but also convinces with professional support and the offer of needs-based employee training. Depending on the industry, your employees may be used to using the barcode scanner.
Our digital inventory programme also works with labels, but instead of barcodes, QR codes are already printed on them. This means that existing mobile devices such as smartphones and tablets can be used to scan the inventory items.
After the scan, the data record of the inventory item can be displayed. If the inventory mode is activated, just scanning the item is enough to record it and check it off in the digital inventory list.
Location-Independent Data Processing: Asset Management App
The decentralised recording of inventory goods via a mobile phone app enables a quick inventory even of objects located at other company sites or remote employees. In the cloud-based asset management software Timly, the person in charge can send a digital request to colleagues in the home office or on field duty.
In response, those contacted scan the QR codes of their assets and thus enter the objects they are using (and optionally their condition) into the inventory database. This location-independent and clear functionality reduces failures and losses of inventory in the long term.
Over 400 Companies, Schools and Cities Rely on Timly
Do We Need Special Inventory Software Scanners?
You don't have to buy extra barcode scanner devices to digitise the inventory. It is sufficient to invest in a cloud-based digital inventory programme such as Timly. This offers a digital checklist for the inventory.
But the software also proves its worth in everyday business: with the simple allocation and disposition function, inventory is assigned to individual employees, locations or customers over the course of the year.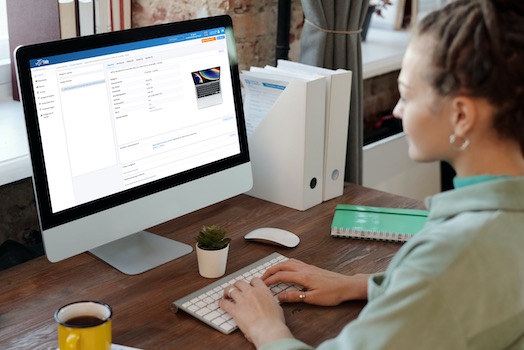 Timly provides a 360° overview of all assets
This is documented and can be traced historically. Incidentally, the Timly team is constantly developing interfaces with which various business software can be linked to the inventory software. Feel free to try it out and modernise your inventory process in the long term.
Experience the Timly Software for Free as a Demo
(No credit card required)
Intuitive Management of Your Assets
Our digital inventory programme offers you a wide range of sophisticated functions. This is how your inventory is digitised easily and reliably.
Manage All Assets
Whether IT resources, tools, machines, vehicle fleet, furniture or contracts: everything in Timly.
Mobile Available Everywhere
Localise your assets with the integrated barcode scanner for smartphones & tablets.
Clever Assignment
Easily assign assets to people, projects, rooms, locations or external service providers.
Digital File Management
Digitally store important information, files, documents, audit trails & contacts for your assets.
GPS Recording
Save the exact GPS location of your assets with one scan. All GPS data historically verifiable.
Mobile device management is more complex than it might seem at first glance. At the same time, it is becoming more and more important, as smartphones and tablets now occupy a key position in corporate communication.
If a company uses open source inventory management, this saves licensing costs. Nevertheless, it is advisable to critically question its use. The idea behind open source is to publish the source code of a program so that free developers can work on it.
If you want to use software as an inventory management solution in your company, it is advisable to make a careful selection. Software-based inventory management by no means replaces only static lists.