On this page you will find information on the following topics: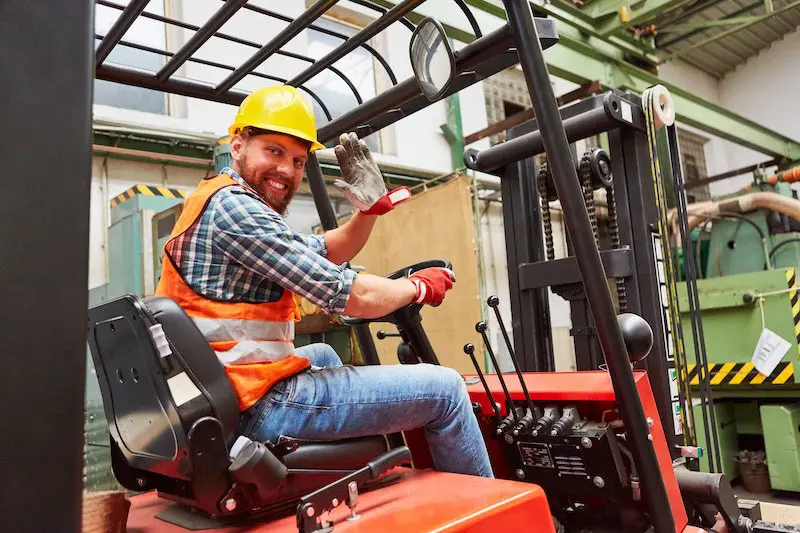 Maintenance software can make everyday life easier for companies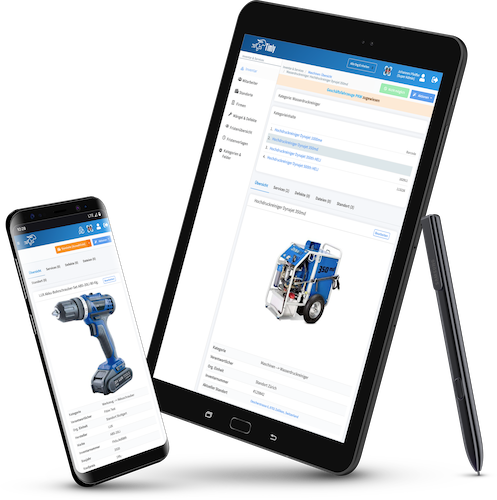 Why Is a Maintenance App Useful?
A maintenance app is often needed, but many companies only realise this when it is too late: an important order is due, but the relevant machine suddenly starts making suspicious noises. An official letter announces that inspection deadlines have passed.
A staff member suffers an accident because he was using something that has a previously unknown defect. A hardware failure makes it impossible to view the Excel list with the maintenance dates. Many unfortunate scenarios are conceivable.
Perhaps, however, you are one of those who calmly think strategically ahead and have recently set up a business? Or you have taken over a business location and are looking for ways to optimise it?
No matter what your starting position is, a closer look at maintenance software is worthwhile in order to make future operations run more smoothly.
Over 250 Companies, Schools and Cities Rely on Timly
How a Well Thought-Out Software for Machine Maintenance Helps
In addition to order execution and personnel planning, the scheduling and maintenance of facilities, vehicles, equipment and machines are also part of the company's daily routine. Especially if this was previously planned by employees with Excel spreadsheets or paper lists, it is worth looking for an efficient programme for maintenance planning.
A maintenance and servicing software solution clarifies questions about inspection dates or maintenance statistics in a structured way. Ideally, the programme and its database are located in a secure cloud, so that you and authorised employees can access the information from anywhere. Updating the database entries for equipment or vehicles is also more flexible with a cloud solution.
Machines and equipment are often located away from the office. With conventional solutions, it can happen that a defect is not reported simply because the warehouse or workshop employee does not see anyone in the office. Or because an urgent incident occurs on the way from the warehouse to the office.
If, on the other hand, damage can be reported via smartphone or new maintenance appointments can be entered via tablet, this happens directly on the device and is less likely to be postponed or forgotten.
After all, the area of documentation and statistics has also gained enormous relevance in the technical and industrial sector in recent decades. Maintenance and inspections must be neatly recorded and logged, otherwise they do not count for insurance companies and authorities. As a result, professional maintenance software is a great help in meeting compliance guidelines.
A programme like this, which is used by several employees, not only clearly shows when which tool or vehicle needs to be serviced, it also provides an overview of profitability: how often a system was defective in a period of time can easily be found out with suitable software. In order to repair the respective defect, an interface can conveniently be activated with which damage reports lead to repair orders.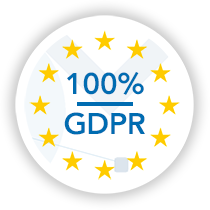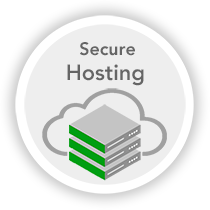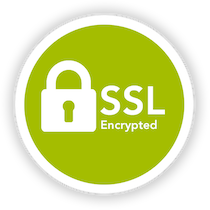 How Useful Is a Maintenance App That Is Freely Downloadable?
In many areas of life and business, people resort to programmes that are offered for free on the internet. These are usually basic versions that display advertisements and after a short time prompt users to buy the full version or take out a subscription.
Maintenance apps and inventory programmes are also available in this form. Some products are ad-free and the product of enthusiastic open source advocates. In any case, no developer will bother to write custom programme areas for your company for no consideration.
Also bear in mind that a free maintenance app does not include support: if you ever encounter a bug in the programme or do not understand something, no one is contractually obliged to help you. Medium-sized and large companies in particular should therefore not try to make short-term savings at this point. Documenting the working condition of all tools, furniture and equipment is too important to rely on inefficient software.
Nevertheless, for a small or young company with a small budget, a test phase with a free maintenance app can make sense. This will give employees and decision-makers a feel for the functions they expect from such software and the way they want to plan and document their maintenance and inspections.
As the company grows and assets may need to be managed across multiple departments or locations, the opportunity costs of inefficient maintenance software increase. This also applies to planning using Excel lists or paper tables. Machines that are not usable or unsafe vehicles simply affect the company's success and demotivate the employees.
The Timly maintenance app in use with HAUSER in Austria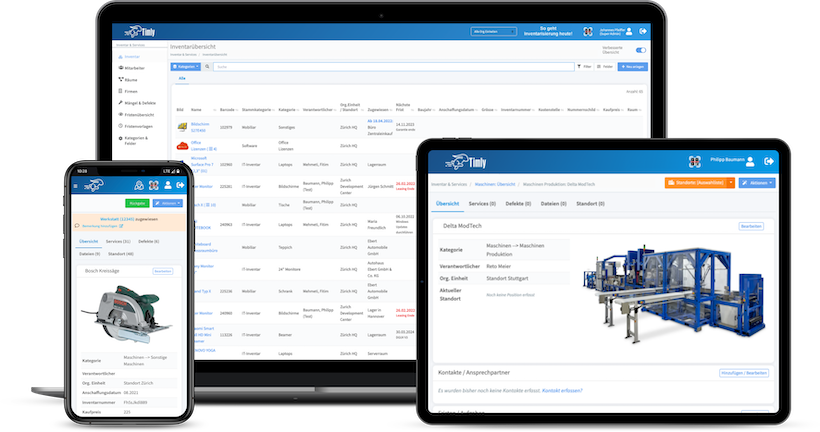 The Maintenance Planner for the UK
The UK's industrial strategy creates and supports jobs. The fourth industrial revolution in the UK aims to maintain their world-leading regulatory system in times of rapid technological change. As such, they are dedicated to the task of not only optimising individual production steps, but of looking at the entire value chain. In modern production construction and logistics companies, all phases of a product's life cycle are to be considered in a networked manner. In the area of information management and documentation, networked maintenance software is an almost indispensable component for such companies.
*NO CREDIT CARD REQUIRED.
(No credit card required)
A maintenance app such as Timly can support you in implementing safety regulations for plants and equipment. By working with various Swiss companies, the software developers know the local regulations and adapt the programme to the needs of the respective industry. Finally, a complete execution and logging of maintenance helps to comply with occupational safety regulations and technical safety standards.
The idea to develop the Timly inventory software arose from a need in a traditional construction company: equipment, tools and safety training should be managed more efficiently and in a way that is suitable for everyday use. Not only on the basis of the entrepreneurial processes of this first customer, but with each additional company that Timly serves, the software's functions are expanded.
The Timly team provides modern, digital solutions for classic problems such as tool management. Based on the experiences of customers from industries such as trade or logistics, the software and its interfaces are optimised. So that we can continue to learn from Timly's diverse use cases, we are always open to customer feedback and offer long-term service contracts at fair prices.
What Should a Digital Solution for Maintenance Offer?
The aim of preventive maintenance is to avoid unnecessary damage to machines. Timely inspections and maintenance ensure that defects that were previously unknown are detected before they can lead to consequential damage. Regular service maintenance thus reduces the number of work stoppages and increases productivity. This is true in almost all sectors, from trade to mechanical industry.
To document maintenance without gaps, many companies have been using specialised maintenance software for years. With reminders, this software helps to ensure that inspection dates for occupational health and safety are adhered to. It also manages repairs and inspections of plant, machinery and equipment. At the respective inspection dates, you thus quickly have documents at hand that satisfy the inspector and facilitate the process.
A professional software for maintenance is suitable for every type and size of company as well as for every industry. After all, modern maintenance software is individually adapted to each customer as required, so that you always see the fields and interfaces that are actually relevant in everyday work.
In the case of the Timly maintenance app, these can also be interfaces or options in the user interface with which the safety training of employees is coordinated and documented. After all, it is not only the equipment that must be safe, but also the way it is handled. In this context, it is helpful that the appropriate operating instructions can also be stored online in the Timly database.
Timly is an inventory and maintenance software that is becoming more and more popular throughout the DACH region. Existing customers also reported how practical the internal ticketing system is, which documents the rectification of defects. In addition, external service providers can be connected via an interface so that even more complex repair cases can be tracked.
Take Off With the Digital Maintenance Planner
(No credit card required)
Is There Any Convincing Software for Technical Facility Management?
A good maintenance system is a great help in facility management.
It allows technicians and administrative staff to make fact-based decisions about worthwhile repairs, as it makes defects and repairs of machines historically evaluable.
Staff can report equipment rentals and equipment failures directly on site with a mobile scanner in the inventory and maintenance software if it is cloud-based. Timly, as maintenance planning software, relies on decentralised data management in its own cloud as standard. Companies that already have a sufficiently large and secure server landscape can alternatively use the on-premise version.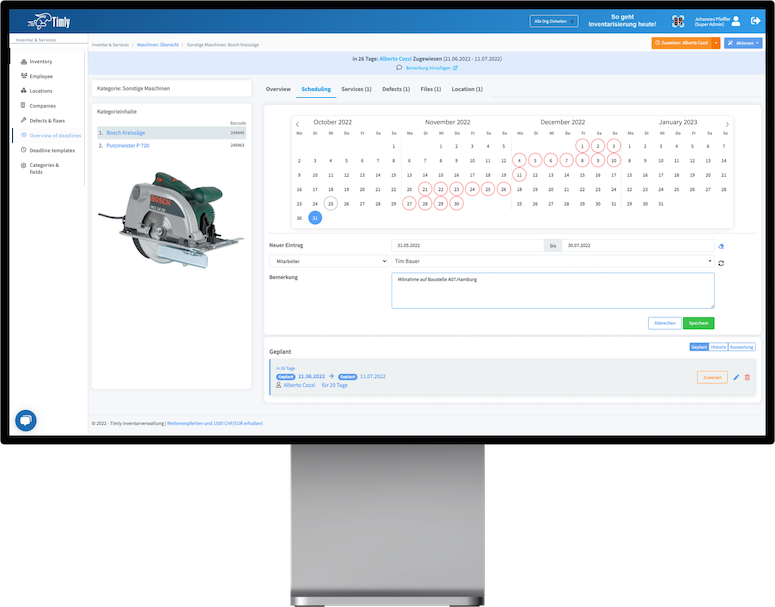 The Timly maintenance planner in action
With professional and comprehensive maintenance software, the management of technical systems is much easier than with DIY solutions or function-poor micro-programs. In modern production facilities and logistics companies, it is well known that the interaction of various technical components, such as parts or devices, in a larger unit is what counts. So to ensure that the plant or machine runs smoothly, no single testing and maintenance step must be omitted.
In order to prevent this from becoming too detailed and time-consuming, you can have the service management automated by the maintenance software. You will then be informed in good time about upcoming inspection dates, repairs and maintenance. In this way, you can minimise the consequences of wear and tear and impairments to availability due to maintenance measures.
Good maintenance software is a key to moving from reactive maintenance to so-called predictive maintenance. The evaluation functions of software such as Timly make it possible to detect irregularities in equipment function or signs of wear on machines in advance.
Manage Your Assets Intuitively
Our inventory software offers you a wide range of sophisticated functions. This way, your inventory is digitalised easily and reliably.
Manage All Assets
Whether IT resources, tools, machines, vehicle fleet, furniture or contracts: everything in Timly.
Mobile Available Everywhere
Localise your assets with the integrated barcode scanner for smartphones & tablets.
Clever Assignment
Easily assign assets to people, projects, rooms, locations or external service providers.
Digital File Management
Digitally store important information, files, documents, audit trails & contacts for your assets.
GPS Recording
Save the exact GPS location of your assets with one scan. All GPS data historically verifiable.
Mobile device management is more complex than it might seem at first glance. At the same time, it is becoming more and more important, as smartphones and tablets now occupy a key position in corporate communication.
If a company uses open source inventory management, this saves licensing costs. Nevertheless, it is advisable to critically question its use. The idea behind open source is to publish the source code of a program so that free developers can work on it.
Using a barcode warehouse management system initially sounds like a small, possibly incidental detail. On closer inspection, a barcode system with the right software creates important conditions for making work processes more effective.