On this page you will find information on the following topics: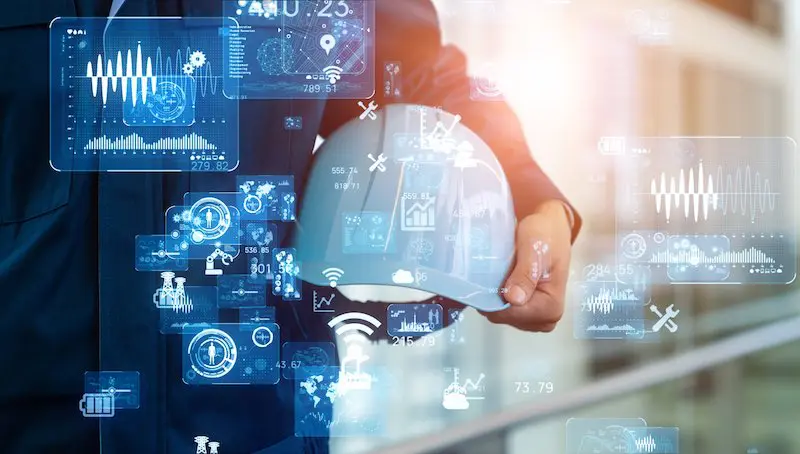 A tool management system can make everyday life easier for construction and craft companies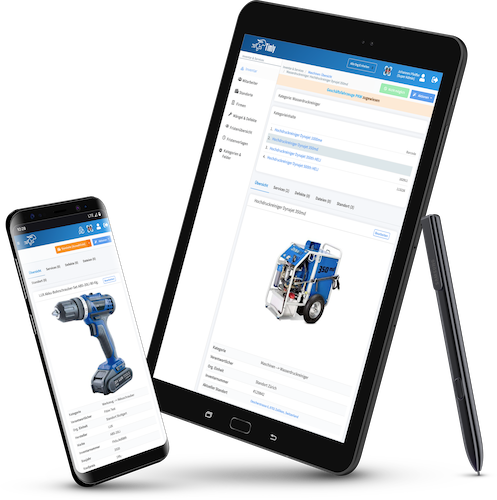 How Inventory Software Acts as a Tool Management System
Tools have to be available and they have to work. Therefore, it is worth taking a closer look at the tool management system in your company.
If there is room for optimisation, it will pay off quickly. Work processes are not disrupted because tools or machines are not available or have even been lost. Scheduling is easier if upcoming maintenance or inspection dates do not have to be painstakingly collected from several sources.
Furthermore, digital recording and management of work materials generally ensure a more sustainable use of resources. A software-based tool management system, for example, offers possibilities such as the assignment of responsible persons and storage locations. Timly's inventory software combines these functions and offers comprehensive digital management of your work materials of all kinds.
A good tool management system accompanies assets throughout their entire service life. Initially, assets are recorded and labelled with a QR code. This can be printed out as a compact sticker and attached to the item. Afterwards, the profile is called up by scanning the QR code.
Different authorisations are assigned to the employees, depending on the concrete requirement, for example, only displaying information or assigning tools to responsible persons. The required information can be stored in the profile. This includes basic data of the unit such as manufacturer, type and technical information.
Further possible information can be entered, such as the current responsibilities of employees or assignments to construction sites, maintenance dates and operating instructions. The condition of a tool when it is handed over can also be documented and permanently saved with a photo.
Central inventory management
Integrated barcode scanner
Maintenance & service management
Track performance & defects
User & role administration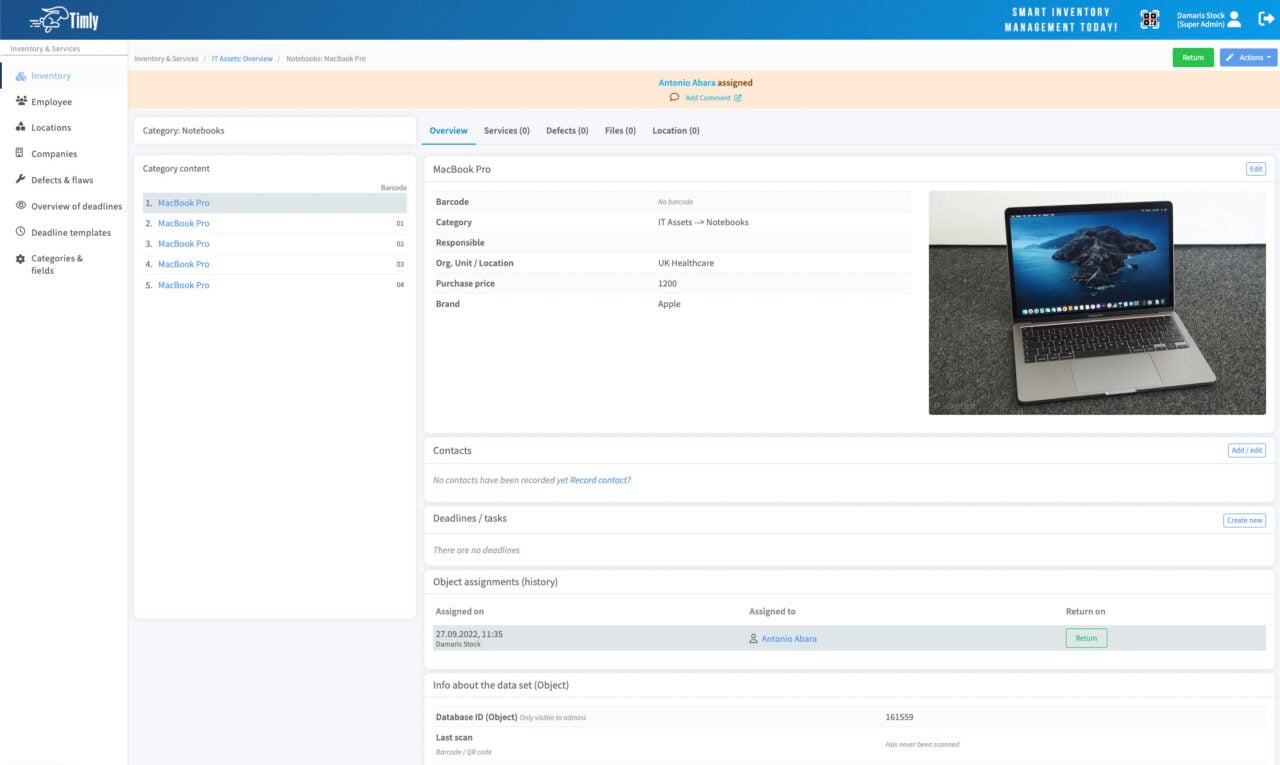 The digital tool management system offers additional comfort functions such as requesting the required tools and reporting defects. A maintenance planner and inventory mode are integrated for management. Storage takes place in a cloud hosted by the provider. This has the advantage that no connection to the company network is necessary. A connection can be established with any internet-enabled device.
The access on the go is facilitated by an inventory app optimised for small screens. With smartphones and tablets, the camera also serves as a scanner for the QR code. These comprehensive functionalities mean that no other tools are needed to manage the tool. Everything you need for your tool management system is already included.
The Schwizer Haustechnik AG uses Timly's Software as mobile tool management with maintenance planner

Timly as Efficient Tool Software
With the inventory software from Timly, you have the daily updated inventory of your tools and machines permanently available. This simplifies effective disposition. But the tool management system also facilitates long-term planning.
You and your employees can see at any time where a tool is and what condition it is in. Maintenance and service dates can be clearly displayed and already taken into account when assigning tools to construction sites. A digital file is created for each tool.
(No credit card required)
Based on the history of reported defects and required maintenance and repair work, fragile tools can be identified. Current information can also be exchanged more easily between the administration and the construction site or workshop.
For example, it is possible to store important work instructions for the respective machine for the employees taking over. In addition, services carried out and safety checks can be called up by the employee on site. This enables them to prove that the required safety checks are up to date during inspections at the work site.
Over 250 Companies, Schools and Cities Rely on Timly
Digital Tool Management System – These Are the Advantages
Nowadays, most people are used to carrying all important information with them, ready to hand, on their smartphones. There is a broad acceptance for this, from which the timeliness of an inventory management software used as a tool management system benefits. Devices can be taken over by simply scanning them, and the app answers questions about handling and safety instructions.
Any methods that involve additional work steps, such as queries to the office or reports to foremen, are easily omitted out of convenience or lack of time. Updates to the actual status can be made where they were initiated. This reduces friction losses and saves working time.
The effects of personal responsibility and the availability of necessary information on site, on the other hand, should not be underestimated. Employees take much more care with tools if they have been personally assigned to them. The constant accessibility to information in the tool management system also reduces the risk of unintentional damage due to missing operating instructions.
When defects or malfunctions can be reported via the app immediately after they occur, the risk of this being forgotten later is reduced. Information circulates permanently in real time between the construction site, scheduling and administration.
The opportunities that arise from a central recording of work equipment and inventory in the tool management system are almost unlimited. For example, Timly's inventory software offers the possibility to document the correct presence of items on the day of the inventory by simply scanning them.
When allocating employees, a link can be made with required qualification certificates if desired. A tool management system makes it possible to work and plan with inventory.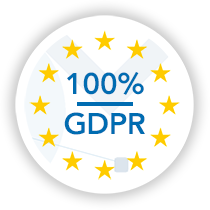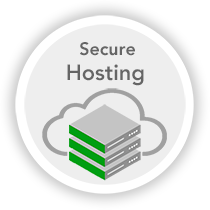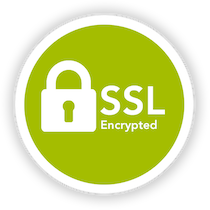 Manage Your Tools Digitally With Software
*NO CREDIT CARD REQUIRED.
(No credit card required)
Is Tool Management Using Traditional Methods an Alternative?
Any responsible entrepreneur has to ask himself whether the costly purchase of software is justified by its benefits. Therefore, we have looked at a few common alternatives.
If you are using an Excel spreadsheet to manage your tool, access by several users, from different locations, is hardly practical. There is usually a lack of a central storage location that can also be securely linked from the construction site.
Furthermore, as the number of entries increases, the clarity leaves much to be desired. Such tables can hardly be used meaningfully on mobile devices. If, on the other hand, all foremen first have to pass on messages about current assignments or defects that have occurred at the beginning of a shift, this hinders work processes and costs valuable time.
In any case, the famous magnetic board in the construction trailer is only suitable for short-term and small projects. Of course, parallel access from the office is not possible, which makes double entry absolutely necessary. Additional information beyond the current assignment to an employee can hardly be managed in this way.
The disadvantage of free software is that it rarely offers the complete range of functions of a software package like Timly. Therefore, you will usually need several products to cover all the necessary features. In addition, in such a case you have to administer a possible central storage location yourself. With a professional solution, the provider ensures the GDPR-compliant protection of the cloud storage.
Six Use Cases for Which a Software-Based Tool Solution Is Suitable
Manage All Assets
Whether IT resources, tools, machines, vehicle fleet, furniture or contracts: everything in Timly.
Mobile Available Everywhere
Localise your assets with the integrated barcode scanner for smartphones & tablets.
Clever Assignment
Easily assign assets to people, projects, rooms, locations or external service providers.
Digital File Management
Digitally store important information, files, documents, audit trails & contacts for your assets.
GPS Recording
Save the exact GPS location of your assets with one scan. All GPS data historically verifiable.
Digital Tool Management as a Tool for Innovative Companies
The prerequisites for a software-based tool management system are probably available in most companies. Additional hardware should be necessary in the rarest of cases. Admittedly, it depends on the organisation of the work processes in the individual case.
Without question, software optimised for tool management offers great potential for increasing effectiveness. On the one hand by saving work steps, on the other hand by having information available where it is needed.
Explore 7 key factors for choosing the ideal inventory management app for your business. Streamline inventory management and enhance efficiency with our expert insights.