On this page you will find information on the following topics: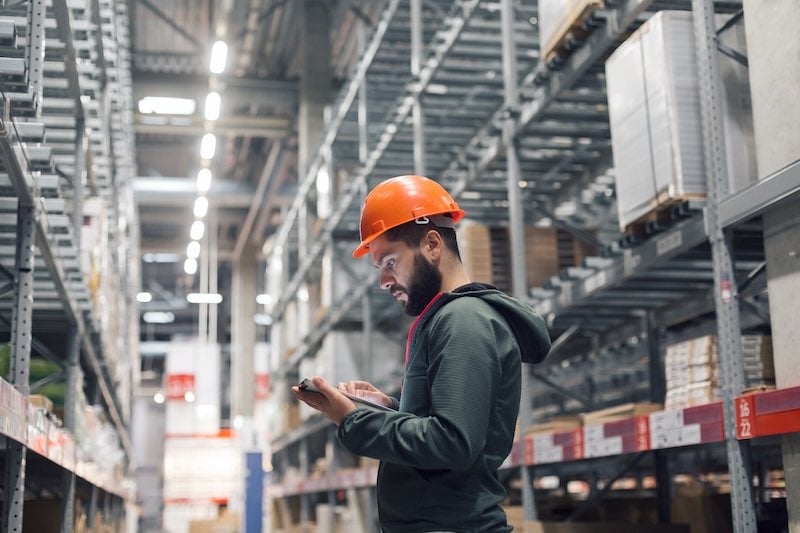 Supply management made easy – with Timly's intuitive app
Supply Management via Software Helps Companies With Planning
A functioning supply management is of enormous importance in modern companies in order to carry out cost calculations and inventory management. In the meantime, many companies use specialised software to be able to directly answer questions about stock levels and to directly implement stocktaking.
Definition of Inventory Management and Stock and Quantity Accounting
Basically, supply management is about quantifying what is in the warehouse and in what quantity. Thus, the term inventory management is used synonymously. For a clear overview, all objects in stock accounting are given article numbers. Each type of stored good has its own data sheet on which further attributes are recorded in addition to the quantity.
Successful quantity accounting is only guaranteed in a closed warehouse, as it must be ensured that inputs and outputs are controlled and documented.
Conventionally, this documentation was done via material notes. Sometimes the supplier or the employee taking the goods had to go to an office employee who transferred the process into an Excel spreadsheet. Nowadays, inventory management in most companies, whether small or large, is handled by an IT system.
This can be the ERP system, an inventory programme or a special warehouse management system.
Over 400 Companies, Schools and Cities Rely on Timly
This Is Why Good Supply Management Is So Important
A digital supply management that can be updated by several employees is an optimal way to document the current stock of products, raw materials and semi-finished products in real time.
Supply management with inventory software such as Timly facilitates the continuous, timely posting of issues and receipts in your warehouse. After all, correct information about the company's stock is essential in order to be able to make reliable statements about the quality and quantity of the stored objects. This helps to avoid unnecessary purchases and delivery bottlenecks, among other things.
One of the important functions of supply management for many companies is that stock levels can be reduced while delivery quality is maintained or even increased. High capital commitment in the form of redundant stock can thus be avoided without compromising customer satisfaction.
Efficient Inventory With the Timly App
Timly is an inventory management software that has useful modules for supply management. You can access Timly via a browser in an operating system of your choice. In this way, you can find out the exact stock of warehouse items, for example, in your office on your desktop PC, even if you have several company locations.
The majority of the data collected on inventory goods and stock levels in most companies comes from the app version of Timly.
Warehouse employees and other authorised persons can update entries on goods and products directly in the warehouse via mobile devices with the Timly app installed. To do this, they use the integrated camera of their devices to scan the QR code generated with Timly for adhesive labels. The labels can be attached to drawers for general cargo or containers for bulk goods, for example.
The employees from purchasing, in turn, enter orders into the inventory management software so that the other departments can prepare for upcoming deliveries. They do this either in the browser or mobile version of the warehouse management software Timly.
Timly's smart inventory management solution explained in under 2 minutes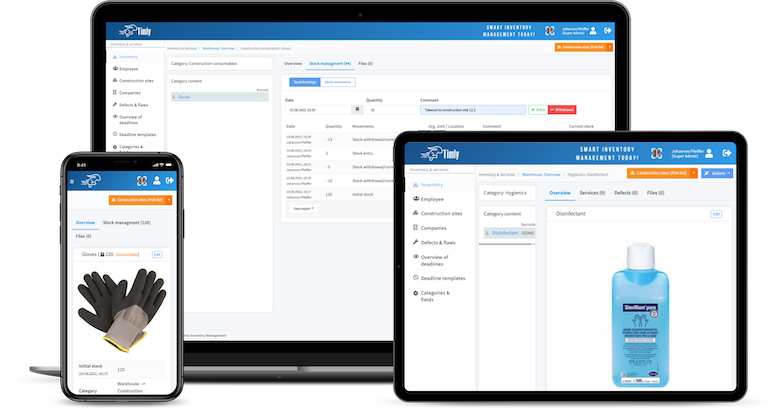 Keep Track of Everything – With Timly
(No credit card required)
Supply Management as Part of Inventory Software
In large companies, supply management is often part of the ERP system. But no matter how big your company is at the moment, inventory accounting within the supply management software has various advantages. After all, the location management of inventory goods is similar in process to the desired seamless recording of all inventory movements in the warehouse.
With Timly's inventory management solution, you can take inventory across locations if required and, if desired, receive notifications when self-defined minimum levels are reached. This allows reorders to be triggered based on actual stock levels rather than set intervals.
For employees, it is practical and easy to understand if the mechanism around QR code scanning and database updating can be applied to both stock levels and the equipment, tools, machines and vehicles in the company. This makes it easier to train new colleagues and increases the motivation to report equipment defects, to enter changes in the location of assets or to indicate withdrawals of semi-finished products.
Supply Management App Facilitates Materials Management
Simplified inventory control with Timly means you always know what work equipment and material quantities are available – and in what condition. Ultimately, modern supply management software leads to more effectiveness because it enables more sustainable planning of purchasing, production and delivery.
In addition, Timly's maintenance management software offers statistical evaluations for the recorded goods as well as inventoried equipment, tools and facilities. This supports upcoming company decisions with helpful data.
In addition to the high functionality in terms of supply management, Timly also convinces with well thought-out details in the area of inventory and personnel management. For example, you can allocate tools, furniture or vehicles to specific employees or record training and certificate courses of colleagues for improved task allocation.
Not to be neglected are also the functions for documenting maintenance and reminders of approaching inspection dates. Just as each piece of equipment can be managed in Timly over its entire period of use, tied-up capital in the warehouse or shipping department can also be recorded in the cloud-based database.
Improve Inventory Processes
Furthermore, good inventory software is a great help with stocktaking, which most companies are required to do annually by law. Instead of hiring additional staff at this time and restricting operations, a permanent inventory using warehouse management software is recommended.
But even if you prefer to stick to the annual mode, Timly has a suitable solution approach: in the special inventory mode, employees scan the goods or equipment and tick off their presence or confirm the quantity displayed – or correct it if there is a discrepancy.
In order to assign inventory tasks and year-round inventory to suitable employees, a clear role and rights management is necessary. Timly implements this just as well as the multi-client capability and the integration of several company locations. In all of this, you remain flexible: the modular software is implemented by the Timly team in cooperation with you and in consideration of your current company needs.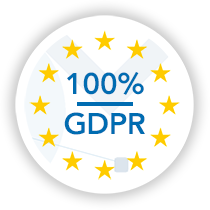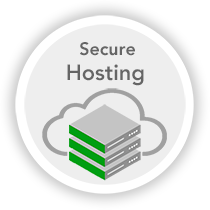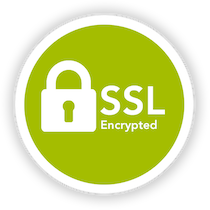 Reduce Capital Costs With Inventory Software
Many companies permanently pursue the goal of reducing or increasing the inventory to the real demand. This is to reduce supply management costs and implement the just-in-time principle.
With the help of supply management software, you can reduce overstuck as well as create production-oriented situations.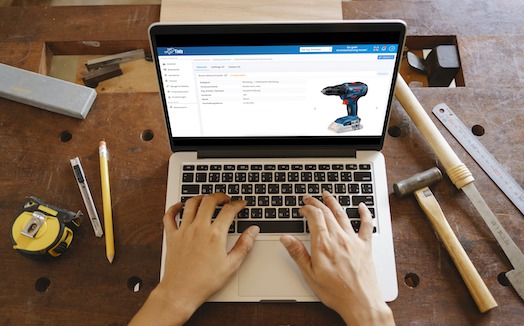 Timly's software makes it possible to manage inventory and assets at any time and from anywhere
As a result, an efficient inventory management programme ensures a significant reduction in costs – even away from the warehouse.
With modern inventory software like Timly, which also functions as supply management software, you not only save money in the long run, but also increase employee satisfaction thanks to increased reliability in terms of raw materials, tools, maintenance and more.
Always Keep Everything in View With Timly's Intuitive Warehouse Software
(No credit card required)
Smart Warehouse Software for Stock Control
With Timly's simple supply software, you always have an overview of your inventory and can manage and organise it from anywhere. A wide range of sophisticated functions makes it easy to digitise your inventory.
Manage All Assets
Whether IT resources, tools, machines, vehicle fleet, furniture or contracts: everything in Timly.
Mobile Available Everywhere
Localise your assets with the integrated barcode scanner for smartphones & tablets.
Clever Assignment
Easily assign assets to people, projects, rooms, locations or external service providers.
Digital File Management
Digitally store important information, files, documents, audit trails & contacts for your assets.
GPS Recording
Save the exact GPS location of your assets with one scan. All GPS data historically verifiable.
Mobile device management is more complex than it might seem at first glance. At the same time, it is becoming more and more important, as smartphones and tablets now occupy a key position in corporate communication.
If a company uses open source inventory management, this saves licensing costs. Nevertheless, it is advisable to critically question its use. The idea behind open source is to publish the source code of a program so that free developers can work on it.
Using a barcode warehouse management system initially sounds like a small, possibly incidental detail. On closer inspection, a barcode system with the right software creates important conditions for making work processes more effective.