On this page you will find information on the following topics: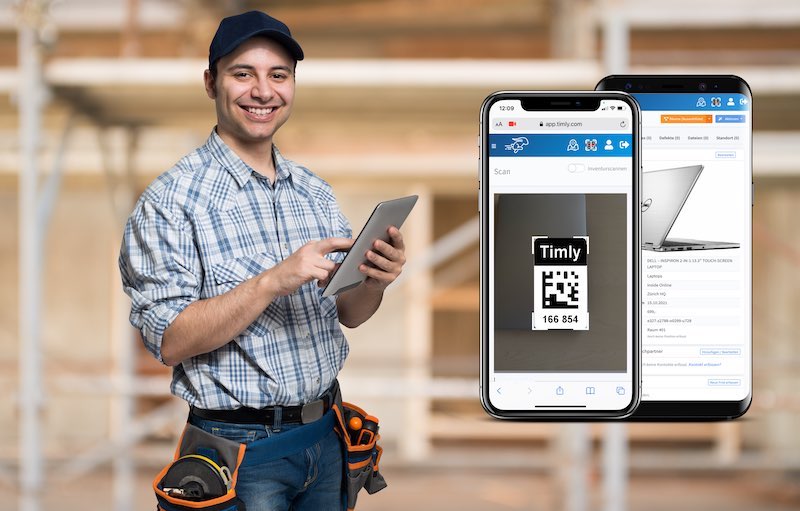 Using inventory software for free is out of the question for successful companies
Is Inventory Software Available for Free?
In many companies, the annual inventory is very time-consuming, as the entire stock has to be inventoried from scratch each time. Inventory software can provide a remedy. However, it should also convince in terms of the cost-benefit ratio. But is inventory software free of charge?
Quite a few companies are therefore looking for free inventory software with management options in real time. However: instead of such a short-term solution, a long-term variant that provides an overview of the inventory is more helpful for most companies, regardless of the industry.
This Is Why So Many People Search for Inventory Software Free-Ware
The problems that only become apparent to many company managers during the inventory process often actually exist for a long time beforehand. If there is no inventory management software, many work processes are unnecessarily complicated. For example, inventory goods are sometimes not available because they have not been maintained or repaired in time. Tools or vehicles are not in the right place because they were not planned correctly without software.
The reason for this is that companies or those responsible in sectors such as trade, construction, production or industry often still manage inventory manually. In addition to paper lists, Excel lists are sometimes used, which are filled in on individual computers by specific persons. Due to this non-networked way of collecting information, a lot of data is lost or not kept up to date.
Due to inefficient inventory management, not only does employee satisfaction decrease, but opportunity costs are also incurred. Many company decision-makers who become aware of these interrelationships first look for inventory software free of charge.
However: freeware is often not really "free", but only a demo that urges you to take out a subscription after a certain time, or a basic version that permanently encourages you to buy the full version. Some free software comes from the open source scene and therefore only has those functions that the respective developer considered important. However, these are not necessarily suitable for your company.
The Timly inventory software explained simply in under 2 minutes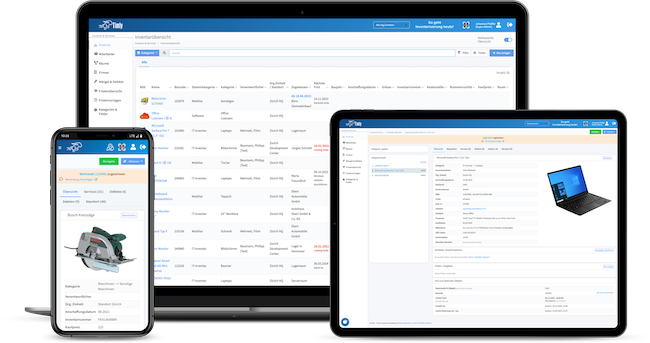 Digitally Manage All Your Assets in One Place
(No credit card required)
Does Asset Management With Excel Work for Free?
In many administrations, subscriptions to the Office package are used so that office workers can enter lists and calculations into Excel files. Even if it seems tempting at first: a spreadsheet is not inventory software.
While it costs nothing extra to enter data on inventory and materials into Excel spreadsheets, it also doesn't offer all the features that would be useful in the long run. Having your employees prepare inventory with simple spreadsheets is more time-consuming and less detailed than relying on specialised inventory software year-round.
After all, your employees want to be able to access equipment and inventory items that are safe, functional, and located where the inventory app shows it in a straightforward manner at all times. To make inventory easier for yourself, it is advisable to generally provide employees with networked software in which they can enter changes to inventory items.
In this way, you avoid, for example, equipment remaining undocumented in the home office or material not being reordered in time. The key is QR codes created in professional inventory software that are stuck on the inventory objects. Thanks to these, any authorised person at any location can access the database entry of the object by scanning it.
Do You Need Scanners for Good Inventory Software?
With inventory software like Timly, you don't need any special, specially purchased scanners. Standard smartphones or tablets are sufficient to capture the QR codes on the device labels. If the camera function of the mobile device is not working, you can search manually in the inventory database, for example for the inventory number or the object name.
The general use of powerful inventory software instead of temporary inventory lists has already proven successful for many companies in the DACH region. After all, the continuous, structured use of an inventory software is like a permanent inventory.
It is less tedious than taking inventory in a specific, short period of time, when all those involved are under pressure to succeed and possibly make careless mistakes by repeating the same activities frequently. It is better if the employees who handle the respective tools or materials on a daily basis can update their status directly via smartphone or tablet.
Over 400 Companies, Schools and Cities Rely on Timly
Successful Inventory Management With App and Cloud
With an inventory app that is a full-featured inventory management system, you and your employees can record and update data on machines, equipment, vehicles, furniture and other goods at any time.
Interfaces to service providers facilitate the process in case of defects. Inventory with a SaaS application from the cloud is the contemporary version of the handwritten inventory list.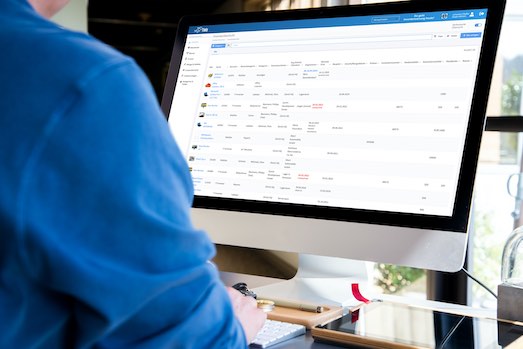 Timly – digital warehouse management for more efficient processes
Thanks to the intuitive and clear user interface of the software, which can also be used mobile, employees tend to enter changes regarding inventory items more frequently and reliably than if they had to go to a specific room or look for a colleague in charge to do so.
In conclusion, inventory software free of charge has many downsides. In comparison, switching to modern inventory software is straightforward. You will be supported by the Timly team in implementing the individual programme version. Improvements in the workflow are already noticeable after a short time. The next inventory will be a much faster and easier one if you invest in a comprehensive inventory solution now.
Experience Our Inventory Software Free of Charge As A Demo
(No credit card required)
Intuitive Management of Your Assets
Our inventory software offers you a wide range of sophisticated functions. This way, your inventory is digitalised easily and reliably.
Manage All Assets
Whether IT resources, tools, machines, vehicle fleet, furniture or contracts: everything in Timly.
Mobile Available Everywhere
Localise your assets with the integrated barcode scanner for smartphones & tablets.
Clever Assignment
Easily assign assets to people, projects, rooms, locations or external service providers.
Digital File Management
Digitally store important information, files, documents, audit trails & contacts for your assets.
GPS Recording
Save the exact GPS location of your assets with one scan. All GPS data historically verifiable.
Mobile device management is more complex than it might seem at first glance. At the same time, it is becoming more and more important, as smartphones and tablets now occupy a key position in corporate communication.
If a company uses open source inventory management, this saves licensing costs. Nevertheless, it is advisable to critically question its use. The idea behind open source is to publish the source code of a program so that free developers can work on it.
If you want to use software as an inventory management solution in your company, it is advisable to make a careful selection. Software-based inventory management by no means replaces only static lists.