On this page you will find information on the following topics: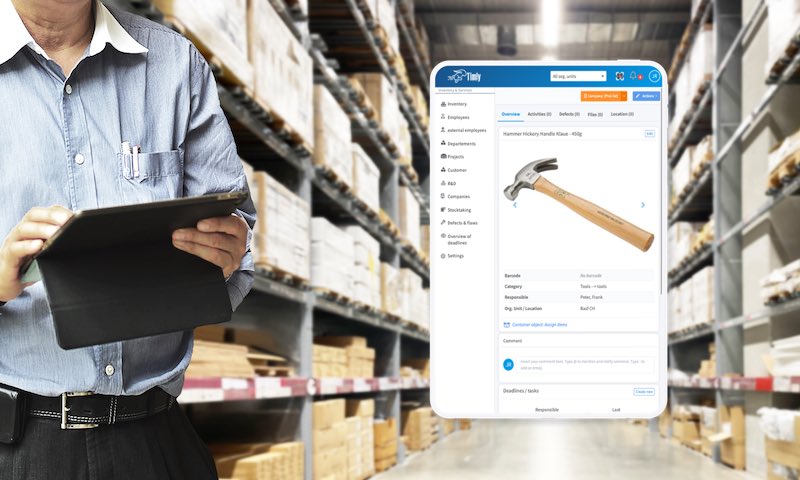 Using software for inventory management helps keep everything in view
Why You Get Better Results With Professional Software
If you want to use software as an inventory management solution in your company, it is advisable to make a careful selection. Software-based inventory management by no means replaces only static lists in which acquired work equipment is recorded once. Timly's professional inventory software facilitates and automates the entire asset management in the company.
This makes it possible to organise work processes much more effectively. For example, annoying searches and enquiries are no longer necessary – the required information is always at hand in the Timly app. The use of resources becomes more sustainable and business decisions can be made on the basis of complete information about one's own inventory.
If you decide to use software for inventory management, you should opt for a holistic solution like Timly.
Inventory Management Solution – Definition and Terms
Inventory management deals with inventory and storage in the company. In this context, inventory includes items such as furniture and, if applicable, fixtures, but also work equipment of all kinds. These can be tools, machines or even vehicles, for example. Warehouse management, on the other hand, addresses the handling of all consumer goods. This includes articles required for the performance of the activity, such as oils, greases or adhesive tape. It also includes materials that are installed at the customer's premises, for example.
Items and work equipment in the inventory are often very different, which makes uniform recording a real challenge. Timly has succeeded in ensuring that all of the assets mentioned here can be meaningfully mapped in practice with its inventory management solution. This means that you only need one solution if you want to use software for your inventory management.
Over 400 Companies, Schools and Cities Rely on Timly
Be Careful When Inventory Management Solution Is Offered for Free
Using an inventory management solution is a complex task. The practical implementation is time-consuming. In addition, a corresponding infrastructure must be provided. Timly is offered as a cloud-based service. With Software-as-a-Service (SaaS), you can work with the programme from day one, without prior installation and configuration. Almost any internet-capable end device is suitable for calling up the programme. In most cases, existing hardware is sufficient. There is no need for additional investment.
When cloud technology is used, security must not be neglected. Data must be transmitted in encrypted form, and in a commercial environment, the requirements of the German Data Protection Act (DSGVO) must be observed. Experts from Timly's inventory app professionally take care of setting up and operating the cloud server. DSGVO-compliant data processing is guaranteed at all times.
Internal rights management is implemented by a user and authorisation concept in Timly. Offering free software for inventory management under these professional conditions is not possible when viewed realistically.
Free Inventory Software Is Only Suitable for Partial Tasks
Some inventory management solution is available free of charge on the market that can implement partial tasks of holistic inventory management. For certain requirements, Excel may also be sufficient. Nevertheless, several systems must always be operated in parallel in this way. Problems and loss of information occur at the interfaces.
Timly manages all assets necessary in the company. It includes features such as maintenance planning, which focuses on dates for maintenance and safety checks. In the profiles of individual inventory items, a digital file is created over time that records all relevant documents. Locations and personal responsibilities can be stored.
Even the integration of IoT sensors, such as GPS trackers or distance measuring devices for level control, is natively possible. In short, Timly replaces a separate ERP system if desired.
Timly's inventory management solution explained in under 2 minutes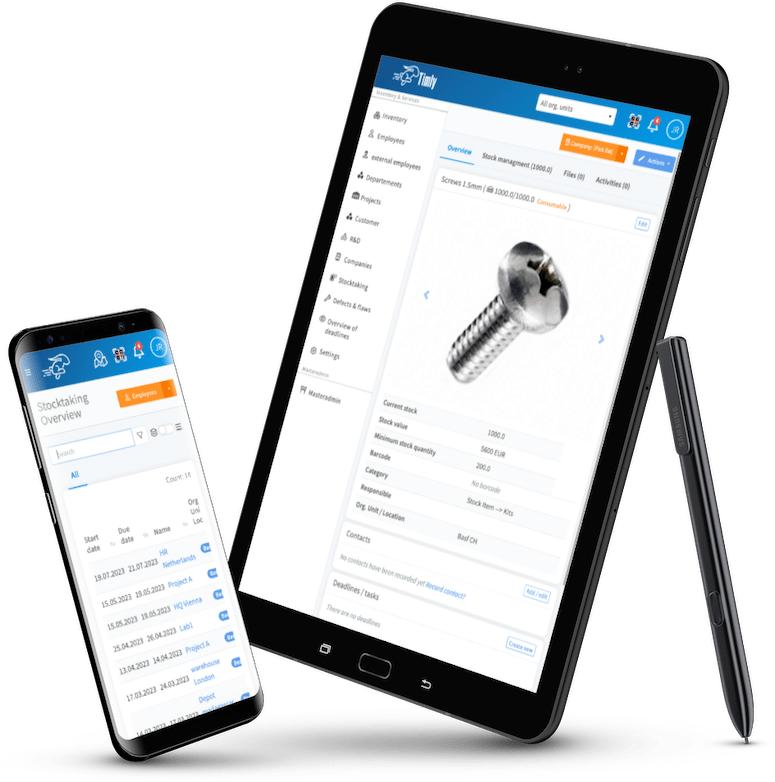 Timly's Simple and Intuitive Software – Always Keep Everything in View
(No credit card required)
Use the Inventory Management App as a Practical Tool
Using Timly software for inventory management also includes the possibility of using the Timly app. The web app is optimised for smartphones and tablets, but can also be used on a PC in administration. When software is in use for inventory management, it becomes possible for staff to view, update and add to records anywhere.
Locations, persons responsible and current status can be tracked in real time. Information is always available where it is needed. To simplify matters, QR codes are also available with which assets can be marked. If these are read in the barcode scanner of the app, the authorised user is directly in the profile of the respective inventory item.
Distinguish Between Private and Professional With Inventory Software
The home office has become a permanent feature of the working world. It is common for employees to take work equipment home and store it there permanently. With Timly's self-inventory feature, they still remain in the field of vision of those responsible. Fixed allocations, condition at handover and any defects that occur can be easily documented in the app.
Your employees have the necessary information at hand at all times when you use Timly software for inventory management. For example, if an inspection appointment for an electrical appliance is due, this is visible in the app. In addition, notifications by email are possible.
Inventory Management Solution Freeware: German as Language Usually Not Available
It is common for developers to offer programmes as freeware. This means that the installation of a basic version is initially free of charge. In practical use, however, it usually turns out that there are considerable functional limitations or that annoying advertisements are displayed. The full range of functions is only activated against payment.
A translation into different languages is often not implemented either. If you want to use software for the entire inventory management, however, it is necessary that it can be operated intuitively. In order not to exclude employees here, a correct translation into German must be available.
Timly's inventory management solution has been developed in the German language area for the requirements there. This ensures an error-free implementation even of very specific technical terms of inventory management.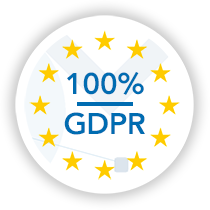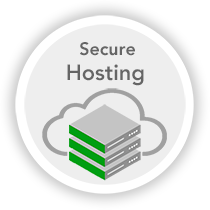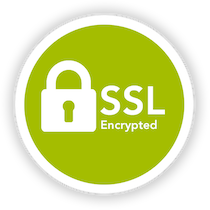 Use Open-Source Software for Inventory?
Open source projects have the advantage that the software offered may be used completely freely. The complex requirement of using software for the entire inventory management should only be implemented with open source programmes if there is sufficient professional competence in one's own company to adapt the software oneself in case the project is discontinued unexpectedly.
Support for the company's own employees must also be provided by internal IT specialists. Therefore, a complete solution such as Timly's inventory software, which works "out of the box" and includes service and support, is the more reliable and cheaper option.
Inventory Management Web-Based: Open Source No Alternative to Timly
If software is to be used effectively for inventory management, constant availability of the data must be guaranteed. Only a cloud-based implementation can be considered with justifiable administrative effort.
Operating your own cloud server on the basis of open source or other free software requires a lot of personnel.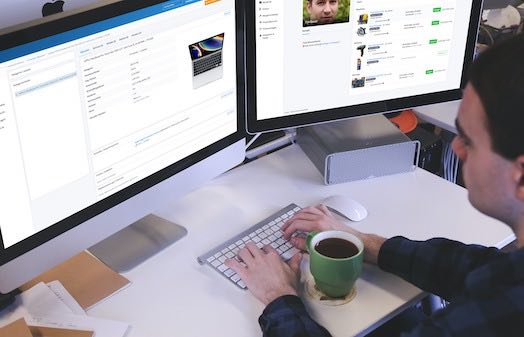 Timly's inventory management solution makes it possible to manage stock, inventory, and assets at any time and from anywhere
Therefore, in the end, the cheapest and safest solution is to rely on an established product like Timly. It is not for nothing that numerous well-known companies, from SMEs to international corporations with various locations, use Timly software for inventory management.
Always Everything in View With Timly's Intuitive Software
(No credit card required)
Digital Solution for Stocktaking and More
With Timly's simple warehouse software, you always have an overview of your inventory and can manage and organise it from anywhere. A wide range of sophisticated functions makes it easy to digitise your inventory.
Manage All Assets
Whether IT resources, tools, machines, vehicle fleet, furniture or contracts: everything in Timly.
Mobile Available Everywhere
Localise your assets with the integrated barcode scanner for smartphones & tablets.
Clever Assignment
Easily assign assets to people, projects, rooms, locations or external service providers.
Digital File Management
Digitally store important information, files, documents, audit trails & contacts for your assets.
GPS Recording
Save the exact GPS location of your assets with one scan. All GPS data historically verifiable.
Mobile device management is more complex than it might seem at first glance. At the same time, it is becoming more and more important, as smartphones and tablets now occupy a key position in corporate communication.
If a company uses open source inventory management, this saves licensing costs. Nevertheless, it is advisable to critically question its use. The idea behind open source is to publish the source code of a program so that free developers can work on it.
Using a barcode warehouse management system initially sounds like a small, possibly incidental detail. On closer inspection, a barcode system with the right software creates important conditions for making work processes more effective.