On this page you will find information on the following topics: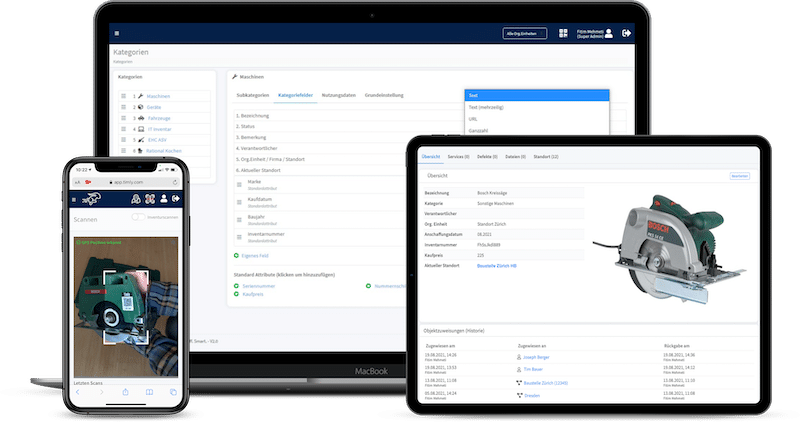 Always know exactly where your tools are and in what condition – available on any device
Why Companies Should Not Use a Tool Management Excel Template
Switching from analogue inventory with, for example, magnetic boards in the equipment department to digital tool management already brings companies a great advantage. Some problems can also be solved with Excel tool management, but there are many sources of error that spreadsheets bring with them.
Furthermore, the formulas used in tool management Excel are difficult for new employees to understand. Even if you use a template for them, the Excel programme can be updated over and over again until your template is not only overfilled with table data over time, but also no longer matches the latest version.
Consequently, what clearly speaks against the tool management Excel are the high administrative costs that exist due to the employees who have to keep this list up to date. It is confusing and quickly incomplete to work with Excel. Moreover, you do not have the possibility to track where the devices are currently located.
There are risks and additional costs involved with Excel tool management that are not sustainable for you and your company in the long run. Of course, switching from analogue tool management to Excel makes sense in spite of everything, but the shortcomings you have to put up with when using it this way are unfortunately not insignificant.
Using Tool Management Freeware – Does It Make Sense?
Generally speaking, the question arises as to whether freeware is useful for tool management or not. The problem with such providers is often that the amount of equipment, machines, vehicles and also tools of a company is much higher than can be processed with free software. In many cases, you are limited to a few devices that you can register.
Therefore, this is possibly a good solution for the self-employed, but not worthwhile for companies with many employees. Accordingly, it is not advisable to work with tool management freeware. It lacks significant functions to be able to record the number of your movable inventory in a resource-saving way.
Compared to Excel, you often have a graphical representation that is clearer, but you can enter fewer products. As a result, when comparing the tool management Excel and the freeware, you would usually have to decide whether you want a clearer layout or a large number of devices that can be entered.
The costs you supposedly save by using the free tool management software come back to haunt you as soon as you notice the disadvantages. Because you cannot permanently avoid issues such as searching for lost devices, double allocation or the constant effort of employees to register for devices as soon as possible with free tool management, even with Excel.
You need a clear structure in your company with a simple efficient solution for your inventory. Timly Inventory Software offers you cloud-based tool management that you can also use via mobile app.
The Timly tool management software in use on the large construction site "Zukunft Bahnhof Bern" (Future Railway Station Bern) 🚧 ⛓ 🛠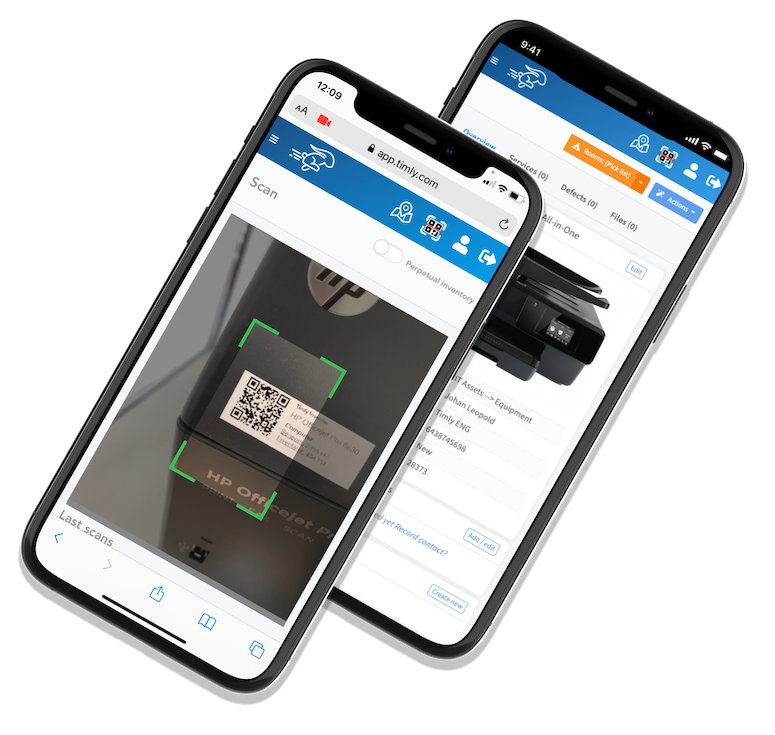 Save Costs Effectively With a Digital Solution
(No credit card required)
The Advantages of Cloud-Based Tool Management
A cloud-based tool management system (compared to Excel management) can be the solution for your company. Timly offers you and your employees a number of advantages so that the tools can be clearly distributed. With Timly, you are able to assign individual tools or similar directly in the system to employees, construction sites or even projects.
This way you and your employees always know exactly where the tool is. For better planning, your employees can reserve equipment for upcoming projects at an early stage. You have your entire inventory in one place and thus also relieve your employees, who do not have to run to the administration office several times a day thanks to the mobile application of tool management via app.
Every machine, every piece of equipment and also every work or vehicle can simply be provided with a barcode and thus registered in the Timly app. The inventory can also be tracked on the construction site so that nothing is lost. At every location, you always know exactly what you need to know at that moment through the mobile version.
Over 250 Companies, Schools and Cities Rely on Timly
Cloud-Based Software as a Cost- And Resource-Saving Solution
Since you can create a separate profile for each employee with Timly, you can automatically see which device is with whom for which project.
The fact that you can significantly minimise the loss of equipment and that damage can be documented directly via the app makes the acquisition of new inventory plannable and calculable.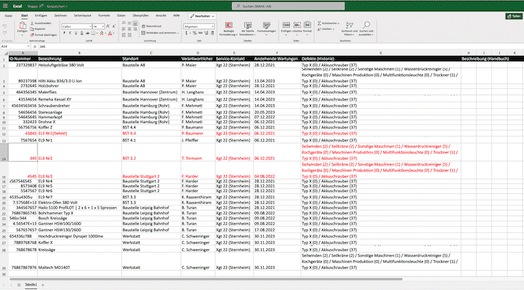 Tool management Excel can quickly get confusing
In the case of damage reports, the device remains with the employee who last used it. You can also precisely record the performance data for each unit. The fact that you can enter upcoming maintenance for the respective devices makes it possible for each employee and also for you to specifically plan when the next maintenance of the device is due.
Document the results and possible weak points of the respective device, so that every employee knows exactly what to look out for. This cost- and resource-saving solution not only saves you a lot of time, but also your employees. Especially because they no longer have to search for the right tool.
See also in the video above how the Timly tool management software is used on one of the largest construction sites in Switzerland (as a replacement for the tool management Excel).
The seamless tracking of equipment ensures that every authorised person knows almost in real time where a machine or the tool they need for the next project is at the moment. Our inventory software offers you all the functions you are missing in Excel tool management. Feel free to try it out and contact us for a free online demonstration.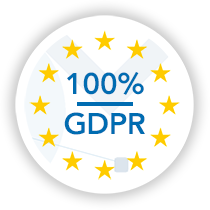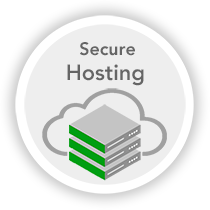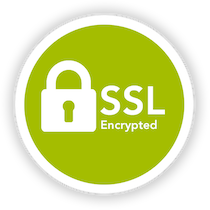 Manage Your Assets Intuitively
Our inventory software offers you a wide range of sophisticated functions. This way, your inventory is digitalised easily and reliably.
Manage All Assets
Whether IT resources, tools, machines, vehicle fleet, furniture or contracts: everything in Timly.
Mobile Available Everywhere
Localise your assets with the integrated barcode scanner for smartphones & tablets.
Clever Assignment
Easily assign assets to people, projects, rooms, locations or external service providers.
Digital File Management
Digitally store important information, files, documents, audit trails & contacts for your assets.
GPS Recording
Save the exact GPS location of your assets with one scan. All GPS data historically verifiable.
Explore how CMMS software solutions help you keep an inventory of all of your company's assets - digital or physical - and keep on top of maintenance schedules and logs. Includes a brief buying guide.