On this page you will find information on the following topics: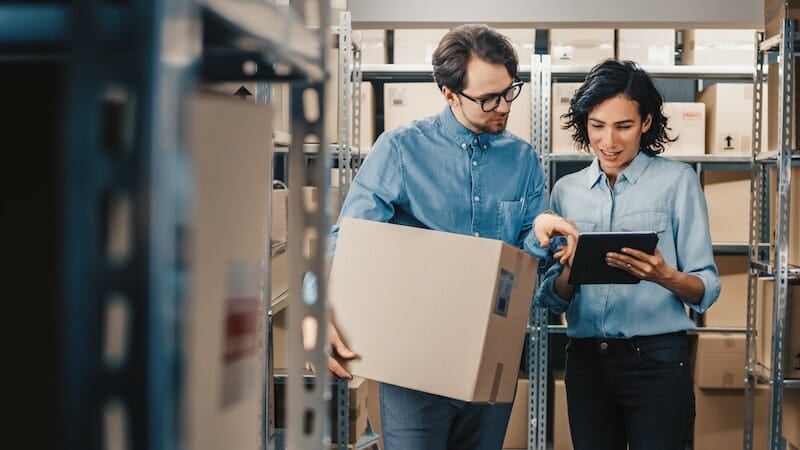 Always keep an eye on your inventory, wherever you are, thanks to the smart inventory app
Inventory: Definition and Examples
It is mandatory to create an inventory once a, but why not know where which inventory goods are on the other days of the year? Having an overview is not only important and helpful in inventory times. On the contrary: companies that basically work with proper inventory software have less effort during the annual inventory.
Modern inventory software can create an inventory practically all year round. It ensures that there is an overview of inventory levels at all times in an efficient manner. It also manages inspection and maintenance dates. Companies that have invested in good inventory management software and let several employees use it will no longer be confronted with problems caused by missing or defective machines, furniture or tools on a daily basis.
As a result of a continuous inventory with a software, an inventory is created that is directly at hand in case of enquiries from authorities or in tax matters. To create an inventory you therefore have to create a clear and precise list of everything that is available in the company.
It is created during the inventory and includes more than just material assets such as vehicles or furniture. When compiling an inventory, fixed and current assets as well as tangible and intangible assets must also be recorded by counting, measuring, weighing or calculating. The company's debts must also be listed in the inventory.
With inventory management software, current assets can be documented easily and in the long term. These are assets that are in the company for consumption, processing, sale or repayment; for example, reserve raw materials or securities.
Current assets are therefore only in the company for a short time. In contrast, fixed assets serve the business for a long time. It belongs to the so-called active balance sheet items and thus to the asset components that are established in a company for a longer period of time, such as patents or installed equipment.
For Whom Is the Management of Objects Important?
When you have an inventory drawn up, the result is a reconciliation of the actual stock on hand with the values from the accounts. Companies that are legally obliged to take inventory must record the stocks separately by rooms and areas. (This is easily accomplished with inventory software that generally records locations of objects).
Usually, an inventory should take place at the beginning of a business activity as well as when a company is dissolved or sold. In addition, an annual physical inventory makes sense from an accounting point of view. From a legal point of view, not all companies have to create an inventory.
What is relevant is, among other things, the turnover of commercial enterprises. If this exceeds certain threshold values, the obligation to keep accounts applies. This obligation can be fulfilled by double-entry bookkeeping, stocktaking and annual financial statements.
Smaller enterprises, on the other hand, often opt for a revenue surplus account and do without a stocktaking. For reasons of tax law, non-commercial enterprises may also be obliged to draw up a balance sheet. In this case, the tax office will require it; here, too, a well-maintained inventory is recommended.
How to create an inventory with Timly is explained here in less than 2 minutes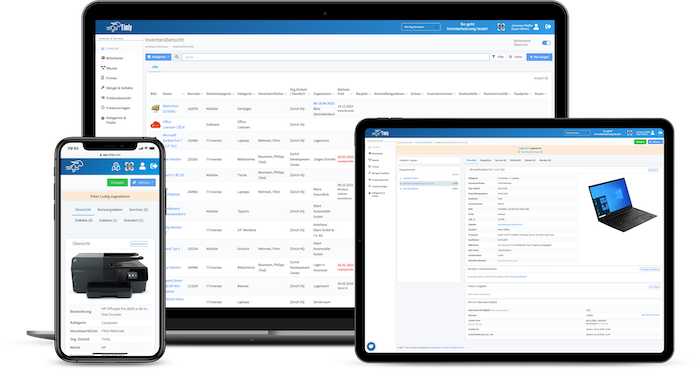 Manage Your Assets in a Few Clicks With Timly
(No credit card required)
How Can We Create a Correct Inventory?
To draw up an inventory, a digital programme is suitable in which the inventory movements are recorded through inventory lists, an inventory history and the purchase receipts. From a practical point of view, labels on office furniture, computers, IT accessories and operating equipment have proven their worth.
These can be scanned to gain direct access to the inventory database in the right place. Legally compliant inventory management includes assets and liabilities. The latter, as well as intangible assets (such as bank balances or patents), can be taken from the accounting software or the ERP programme.
When you create an inventory, balance sheet documents are created, which must be kept for ten years. This can now also be done in the form of digital documents on data carriers. However, the inventory should not have any deficiencies, otherwise the accounting will be considered improper, which means that the balance sheet based on it will be considered null and void.
Is Excel Useful When Creating an Inventory?
Many companies in trade, industry or other sectors still manage their inventory manually. In the case of stocktaking, this amounts to employees and temporary workers having to create an inventory with paper, pen and clipboard. Material quantities and object information are entered into free Excel lists in many a company.
Both approaches are quite prone to information loss and errors due to lack of overview. It is more worthwhile to create an inventory that is integrated into the company's daily routine. With a permanent inventory, all authorised persons keep track at all times of all items in your inventory, e.g. always know which equipment is in working order and in the warehouse or in a vehicle.
Inventory goods that are in the home office are clearly recorded. Inventory management and material reordering run in an orderly fashion. In short, good inventory software saves opportunity costs and makes the employees' daily work easier. The distribution of responsibility for the inventory among several people using an inventory app such as Timly also provides more security against data loss than inflexible Excel inventory tables.
Over 400 Companies, Schools and Cities Rely on Timly
What Good Management Software Can Do
With a professional asset management software adapted to your company, you facilitate the inventory, but also the everyday workflow.
It is much easier to create an inventory if all data about company goods is already available digitally.
A company's debts, which also need to be recorded during an inventory, are less likely to be reflected in the software, but numerous other functions of software such as Timly contribute to the ongoing inventory.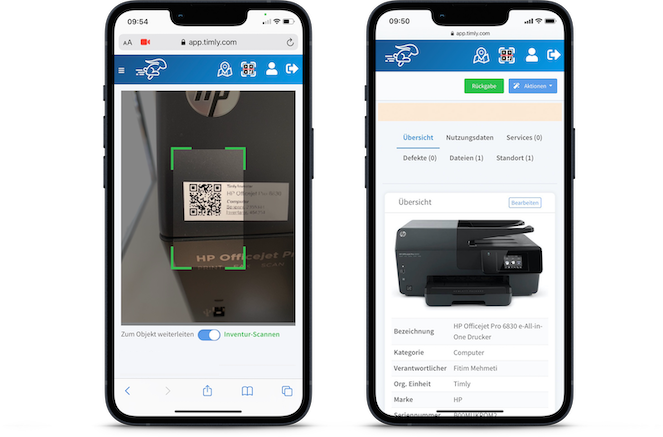 Create an inventory in a few clicks with the Timly app
Thus, it is not necessary to close the business on certain days of the year for the inventory. It is sufficient to entrust several employees (depending on the size of the company) with the evaluation of the accounting software and the extraction of data from the inventory software.
If necessary, you can also use specialised software to create an inventory several times a year as well as look at statistics to notice suboptimal processes and make the company operation more efficient.
Manage Your Assets in a Few Clicks With Timly
*NO CREDIT CARD REQUIRED.
(No credit card required)
Intuitive Management of Your Assets
Our inventory software offers you a wide range of sophisticated functions. This way, your inventory is digitalised easily and reliably.
Manage All Assets
Whether IT resources, tools, machines, vehicle fleet, furniture or contracts: everything in Timly.
Mobile Available Everywhere
Localise your assets with the integrated barcode scanner for smartphones & tablets.
Clever Assignment
Easily assign assets to people, projects, rooms, locations or external service providers.
Digital File Management
Digitally store important information, files, documents, audit trails & contacts for your assets.
GPS Recording
Save the exact GPS location of your assets with one scan. All GPS data historically verifiable.
Mobile device management is more complex than it might seem at first glance. At the same time, it is becoming more and more important, as smartphones and tablets now occupy a key position in corporate communication.
If a company uses open source inventory management, this saves licensing costs. Nevertheless, it is advisable to critically question its use. The idea behind open source is to publish the source code of a program so that free developers can work on it.
Using a barcode warehouse management system initially sounds like a small, possibly incidental detail. On closer inspection, a barcode system with the right software creates important conditions for making work processes more effective.