On this page you will find information on the following topics: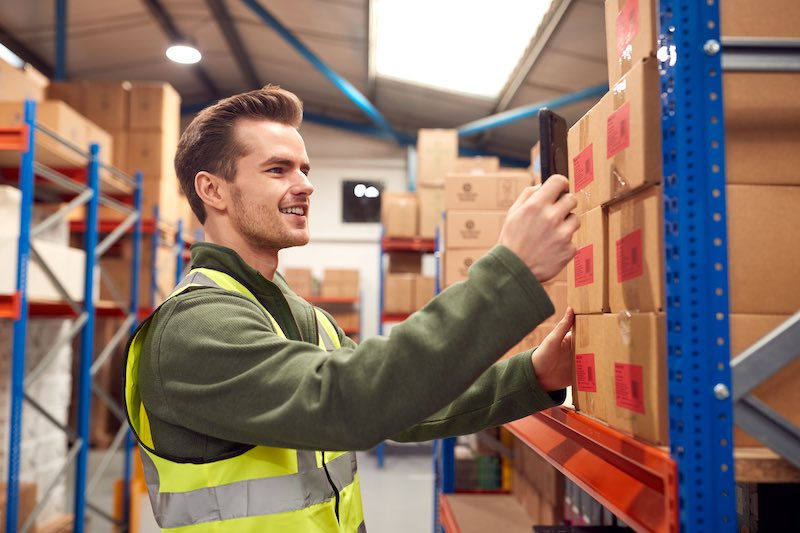 Simplify warehouse management with barcodes
Software From Timly Creates Transparent Solutions
Using a barcode warehouse management system initially sounds like a small, possibly incidental detail. On closer inspection, a barcode system with the right software creates important conditions for making work processes more effective. Searching and typing in item identifiers is time-consuming, unnecessarily burdens employees and increases the error rate.
The intuitive handling of the Timly app and the integrated barcode scanner already ensure satisfied users in many companies. In the following article, we would like to explain why this is so.
Barcode Warehouse Management + Excel as the State of the Art?
An old principle in the office is that everything can somehow be solved with Excel. With limitations, this is certainly still true today. The spreadsheet programme is reliable and covers an amazing range of functions through sophisticated templates and script-based extensions.
However, the working world has changed. Companies rarely operate from just one location any more. Home offices, assembly work and customer service are often part of everyday life. This requires permanent access to the warehouse software in order to be able to process the inventory in real time. If warehouse management is to be restructured with barcodes, more flexible software solutions have an advantage.
Timly has therefore been designed as a cloud service. Independent of access to the company network, every authorised employee can call up warehouse management with Timly via barcode using an internet-capable terminal. The consumption of materials can be recorded directly at the workplace via app and barcode scanner. Reporting channels that cost time and are occasionally forgotten are no longer necessary.
By the way, the smart fill level control independently ensures replenishment if desired. If the stock level falls below a defined level, Timly initiates a new order by email. For bulk goods and other building materials, GPS trackers can be integrated to monitor the stored goods. You can book these with Timly at the same time. The Timly developers rely on professional IoT sensor technology from the partner company adnexo. A cooperation was set up specifically for this purpose.
Over 400 Companies, Schools and Cities Rely on Timly
Introduce the Barcode in the Warehouse – With Timly as an All-Inclusive Package
To introduce barcode warehouse management at your company, you don't actually have to pay attention to anything else – if you trust in Timly. There, the identification of recorded assets has always been done via QR code. This space-saving form of a digital label has an internal error correction. It is therefore particularly suitable for reliably reading barcodes even in environments characterised by dirt and weather conditions.
Due to the small dimensions of QR codes, corresponding labels can be used well in most working environments. They can be applied to indoor and outdoor storage areas, but also to storage compartments in vehicles.
Barcode: Warehouse Management App Always at Hand
Timly follows the holistic approach. This means that assets of all kinds, from tools to consumables, can be recorded with it. The interface to the user is the innovative Timly inventory app. This allows employees to use mobile devices such as smartphones and tablets to access warehouse management and other functions in Timly's software package via barcode.
Since it is a web app, there is nothing to prevent the use of private devices. Data is only temporarily stored locally, as is familiar from the use of a web browser. Data protection and data security are maintained. Employees can use the Timly app to easily view necessary information about work equipment and materials.
They can document the consumption of articles in a matter of seconds. All they have to do is scan the QR code at the storage location and reduce the stock by the desired amount. This enables a fill level check in real time. It is also possible to document materials consumed on a construction site for later billing with Timly.
Timly's software explained in under 2 minutes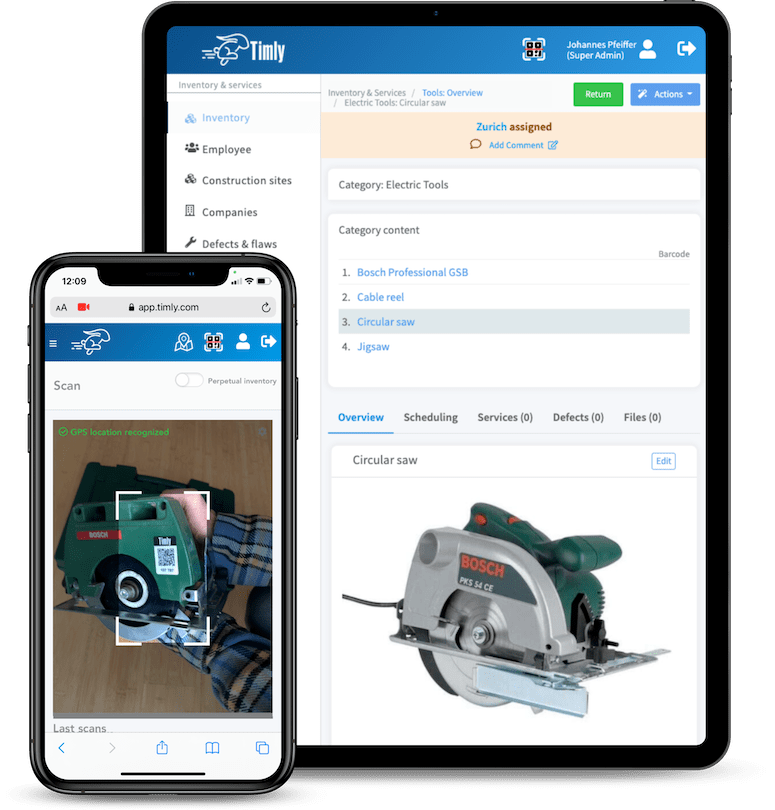 Keep an Eye on Everything via Timly's Smart Stocktaking Software
(No credit card required)
Simple Stocktaking App Free of Charge, Not Suitable for Companies
Many apps are available for download free of charge. Among them are also those that enable warehouse management in a professional environment with barcodes. However, those responsible should be aware of some problems.
When companies outsource data to the cloud, the requirements of the General Data Protection Regulation (GDPR) apply in most cases. These require a storage facility with a verifiable location in the European Union and documentation of adherence to security standards. This is usually not possible free of charge.
Providers such as Timly provide secure, DSGVO-compliant storage. Administration and security are already included in the price. The same applies to the fine-grained user and authorisation system, which allows users to access only the content intended for them. Moreover, the use is not limited to apps. Timly's warehouse management software can of course be used in administration on PC and laptop.
QR-Code Warehouse Management: Excel Does Not Exploit Its Full Potential
One approach to making Excel usable from changing work locations is to use Microsoft 365, the cloud-based office package that can be used to expand the areas of application. However, in order to exploit the full potential of inventory and warehouse management, solutions based on databases are more suitable. Data is stored there in a structured way and can be linked with parameters from different contexts.
In this way, a database can be accessed both for inventory control and for the purposes of stocktaking. Additional stored information, such as sample images or product notes, does not impair clarity. When the barcode is used to call up warehouse management in the software, database-based inventory software such as Timly only displays the necessary information and input fields.
Freeware and Open Source: Free Warehouse Management Hardly Feasible
The use of freeware and open source makes perfect sense in some areas. Hardly anyone today would think of spending money on a ZIP programme or a web browser. However, the application purposes for free licence models usually have something in common: they are either not essential for functioning work processes in companies or the software can be exchanged for another product without significant effort.
When using a barcode warehouse management system, on the other hand, failure inevitably leads to severe impairments. In the worst case, work processes come to a standstill and deadlines are jeopardised. With Timly's inventory software, you acquire a product that has been established on the market for years. Companies ranging from craftsmen's businesses to DAX-listed corporations are among our satisfied customers.
If you support inventory management with Timly via barcode and problems occur, a trained support team will help you. The supply of security updates and functional enhancements is permanently guaranteed with a professional application like Timly.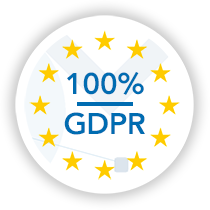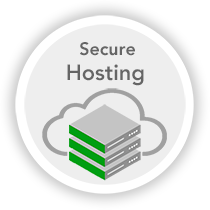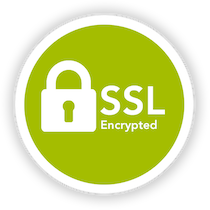 Warehouse Management With Barcode Scanner Free of Charge? You'd Better Trust Timly!
Organising warehouse management with barcodes makes sense and simplifies work processes.
Knowing at any time through Timly what the stock is and where material has been consumed and in what quantity also facilitates planning.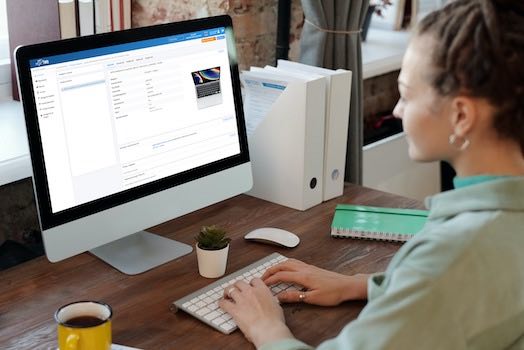 Timly's software makes it possible to manage inventory and assets at any time and from anywhere
Cost centres can be transparently compared and optimised. Manual checks and entries in an inventory management system are no longer necessary if you set up smart and future-proof warehouse management in your company with IoT sensors and barcodes.
Always Keep Track of Everything With Timly's Intuitive App
(No credit card required)
Smart Stocktaking Software
With Timly's simple software, you always have an overview of your inventory and can manage and organise it from anywhere. A wide range of sophisticated functions also makes it easy to digitise your inventory.
Manage All Assets
Whether IT resources, tools, machines, vehicle fleet, furniture or contracts: everything in Timly.
Mobile Available Everywhere
Localise your assets with the integrated barcode scanner for smartphones & tablets.
Clever Assignment
Easily assign assets to people, projects, rooms, locations or external service providers.
Digital File Management
Digitally store important information, files, documents, audit trails & contacts for your assets.
GPS Recording
Save the exact GPS location of your assets with one scan. All GPS data historically verifiable.
Mobile device management is more complex than it might seem at first glance. At the same time, it is becoming more and more important, as smartphones and tablets now occupy a key position in corporate communication.
If a company uses open source inventory management, this saves licensing costs. Nevertheless, it is advisable to critically question its use. The idea behind open source is to publish the source code of a program so that free developers can work on it.
Finding the right tool management is an important topic in trade and industry. If necessary tools are not available, this usually has unpleasant consequences. Work processes come to a standstill, deadlines are jeopardised.