Keeping an Eye on the Accident Pyramid – How to Improve Occupational Safety With Timly
(No credit card required)
On this page you will find information on the following topics: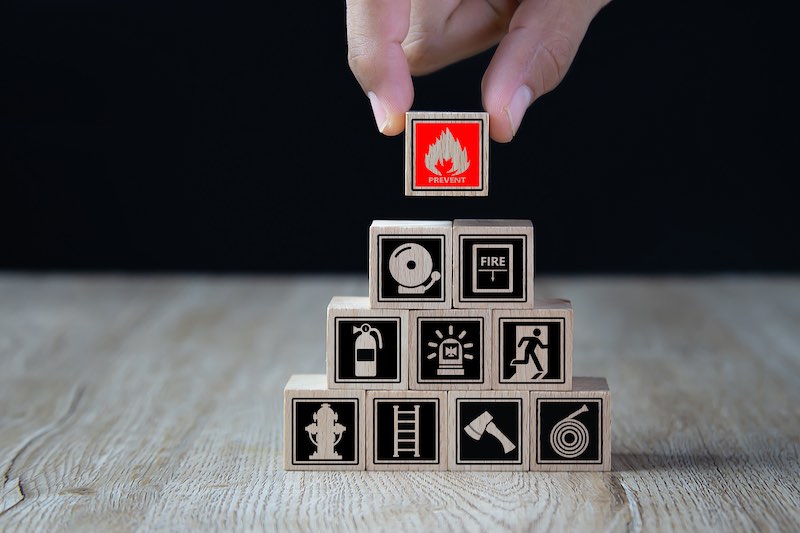 Maintenance management and occupational safety software prevent accidents on construction sites and in industrial halls
Integrate Technical Safety Management Through Software
Wherever people work, mistakes happen. To ensure that mistakes do not turn into catastrophes, those responsible have a duty to support their employees as best they can in complying with process safety-relevant regulations in their daily work.
Heinrich's accident pyramid correlates the frequency of non-injury incidents at work to occupational accidents with minor or major injuries. According to Heinrich, the frequency of accidents is inversely proportional to the severity of the incident.
Employee behaviour that is contrary to safety is thus strongly correlated with ultimately more serious incidents and injuries. From this we can conclude that as the number of breaches of safety regulations increases, so does the incidence of workplace accidents in which employees are seriously or even fatally injured.
Timly supports those responsible – but especially the workers on site – by making important information available quickly and easily where it is needed.
The Accident Pyramid: Heinrich and Frank E. Bird Have Developed an Important Model
The accident pyramid according to Herbert W. Heinrich is a graphical representation of the occurrence of safety-relevant incidents and the factor of the resulting consequences. It is based on the analysis of occupational accidents and accident data.
His work was later continued and disseminated by Frank E. Bird. Among other things, he compiled 1.7 million accident reports. The accident pyramid, also known as the 'safety pyramid', 'safety triangle', 'accident triangle' or 'Heinrich's law', is structured as follows:
On the lowest level of the accident pyramid are 300 non-injury accidents. These can be triggered, for example, through any behaviour that is contrary to safety.
On the next level of the accident pyramid are 29 minor injuries – perhaps when first aid has become necessary.
At the top of the Heinrich Pyramid is 1 major injury. This could be a major accident with hospitalisation and even death.
So for every incident that causes a major injury, there are 29 minor incidents with minor injuries and 300 incidents that cause no injuries. According to Heinrich, these figures are directly correlated.
The accident pyramid illustrates the importance of occupational safety and health measures. The protection of employees should count as one of the basic principles on a par with the productivity and quality of a company's manufactured products. So taking Heinrich's triangle into account in safety management is very valuable.
In this case, the so-called top-down principle stands for the fact that the company management directly assumes responsibility for occupational safety and integrates it into everyday processes through clear specifications and measures. Modern personnel administration and maintenance management software such as Timly can be the key to the consistent implementation of such guidelines. Employees thus have a tool with them at all times with which they can access safety-relevant information in their work area.
Learn in less than 2 minutes how Timly digitally ensures your occupational safety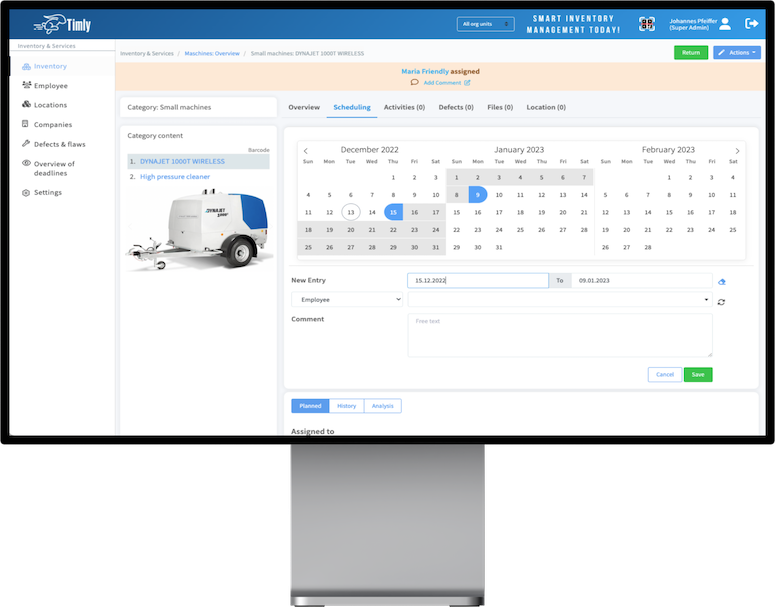 Plan Maintenance and Comply With Safety Standards With Regard to the Accident Pyramid
(No credit card required)
Learning From the Safety Pyramid: Observe Rules and Regulations
State occupational health and safety laws and regulations are aimed at companies and contain specific recommendations for action in different sectors. They serve to prevent accidents and should also encourage the establishment of a certain safety culture in the company in order to avoid accidents at work – from minor incidents or safety incidents, to major accidents.
Risky behaviour by employees leading to accidents as shown in the accident pyramid is rarely intentional. Routine, thoughtlessness or lack of time are more likely to be reasons for non-compliance with occupational safety and health rules. With the Timly software, those responsible have the opportunity to provide a tool that collects all facts important for operational compliance in one place.
For this purpose, Timly combines a digital personnel file with holistic inventory management. In this way, it is easy to ensure that only sufficiently qualified and correctly instructed personnel are deployed for a task. The maintenance and inspection management of all tools and machines integrated into the inventory software also makes it easy for employees and supervisors to check that the assigned work equipment is in proper condition.
Over 400 Companies, Schools and Cities Rely on Timly
Heinrich Pyramid: Integrating Occupational Safety Into Everyday Life
Timly creates the basis for permanently storing necessary information such as qualifications and valid certifications in a digital personnel file. Corresponding profiles can be created for each employee in compliance with data protection regulations. In this way, supervisors can see immediately during scheduling whether an employee has all the necessary qualifications for an intended activity.
If appointments are due, such as periodically recurring instruction or the acceptance of examinations, the calendar reminds those responsible in the personnel department in good time.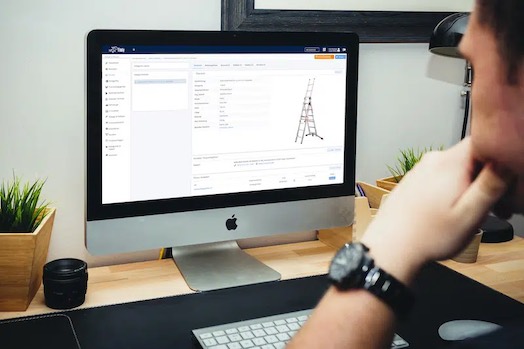 Consider the accident pyramid – ensure occupational safety: The Timly app creates the necessary overview
In parallel, the Timly inventory management software offers the possibility to digitally record all inventory and work equipment. Flexible categories are available for this purpose, which can be adapted to the specific requirements of each company. In addition to general information, operating instructions and maintenance instructions can be stored. A calendar is also available for each piece of equipment, which contains upcoming dates for inspections and maintenance.
To ensure that the data can be accessed from anywhere, Timly uses a GDPR-compliant cloud storage. The authorisation concept controls which employees have access to certain information and whether they are allowed to change it.
To make data access as uncomplicated as possible, Timly offers an app optimised for smartphones and tablets. In addition, since any inventory can be tagged with a QR code when it is first recorded, access is very straightforward at any work location. All employees have to do is scan the QR code with their smartphone. Afterwards, they have access to all the necessary instructions and information.
This also greatly simplifies the assignment of staff on site for specific tasks. When assigning a tool to an employee, the foreman can see at a glance whether the employee has all the necessary certificates of suitability and whether the work equipment is in correct condition in terms of safety.
Timly's Occupational Safety Software Helps to Prevent the Next Occupational Work Accident
Requirements are more likely to be implemented if this can be done without a great deal of time. Stress, lack of time, but also the routine of everyday life bear the risk that measures necessary for compliance with safety regulations are omitted. An unsafe act is then quickly done.
If a personal allocation of machines on the construction site and the documentation of a safety check for machines handed over are prescribed by the company management, it is a great help for the employees if they are given software specially designed for this purpose.
If an instruction manual lies in the office, protected from dust and dirt, it is of no use to the worker on site. If documentation is to be carried out on site in adverse weather conditions, there is a risk that it will be postponed and forgotten later.
On the other hand, if an employee can scan a QR code with his smartphone when taking over a machine and find out about the condition and necessary safety measures, this does not cost him valuable working time and actively contributes to occupational safety. – Not to mention lost time injuries that he is thus spared.
Accident Pyramid as a Warning: Establish Occupational Safety With Timly
Responsible persons in companies do their best to avoid personal injury or even fatal accidents. The narrower the foundation of unsafe behaviour at the lowest level of the accident pyramid, the less likely it is that a major injury will occur in the company.
Safety management for accident prevention therefore starts with daily work. For this, it is necessary that every employee has the information necessary to perform his or her job. Timly provides the appropriate platform for this by linking daily updated facts and making them accessible on site.
Occupational Safety Has Top Priority – Start Free Timly Demo Now
(No credit card required)
Accident Prevention Through Reliable Management of Your Inventory
Our inventory software with maintenance planner offers you a wide range of sophisticated functions to relieve your employees in their everyday work. This way, the accident pyramid is only a cautionary model and occupational accidents are prevented in your company.
Manage All Assets
Whether IT resources, tools, machines, vehicle fleet, furniture or contracts: everything in Timly.
Mobile Available Everywhere
Localise your assets with the integrated barcode scanner for smartphones & tablets.
Clever Assignment
Easily assign assets to people, projects, rooms, locations or external service providers.
Digital File Management
Digitally store important information, files, documents, audit trails & contacts for your assets.
GPS Recording
Save the exact GPS location of your assets with one scan. All GPS data historically verifiable.
Mobile device management is more complex than it might seem at first glance. At the same time, it is becoming more and more important, as smartphones and tablets now occupy a key position in corporate communication.
If a company uses open source inventory management, this saves licensing costs. Nevertheless, it is advisable to critically question its use. The idea behind open source is to publish the source code of a program so that free developers can work on it.
If you want to use software as an inventory management solution in your company, it is advisable to make a careful selection. Software-based inventory management by no means replaces only static lists.