IT Asset Management: Your Guide to Smoother IT Equipment Operations (Whitepaper Download)
(No credit card required)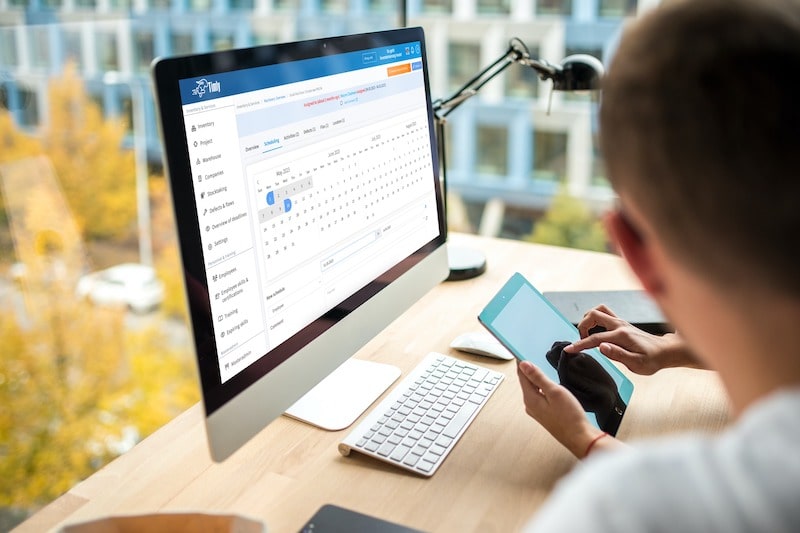 Move from chaos to control with Timly's smart IT Asset Management software.
Welcome to your IT Asset Management Whitepaper download page. At Timly, we pride ourselves on leading the way in IT Asset Management, offering a cloud-based system perfect for organisations of any size aiming to manage their inventory with utmost efficiency – encompassing everything from everyday office furniture to essential IT equipment. Leveraging QR technology, we deliver immediate, location-independent access to asset information, seamlessly connecting you to your inventory no matter where it's located.
Our IT Asset Management software ensures that you stay ahead of compliance-related deadlines and essential safety inspections. It's designed to streamline the process of scheduling software upgrades and maintenance, allowing you to speed up repairs and maintain regulatory compliance effortlessly, thus reducing both device downtime and the effort invested in locating IT equipment.
Timly's software stands as a pillar in IT Asset Management for a diverse array of businesses, appreciated for its ability to provide comprehensive tracking of assets. Whether it's heavy-duty work machinery, medical devices, office furniture, or even staff qualifications, Timly makes IT Asset Management straightforward and boundless. There is virtually no limit to what assets you can manage with our system, making it the smart choice for any organisation looking to optimise their IT Asset Management.
What's inside the whitepaper
The global business landscape is currently facing unparalleled challenges, urging organisations to adapt swiftly. As we gravitate away from conventional office spaces towards remote and hybrid working models, digital processes have turned from optional to indispensable. This shift to a decentralised work structure has underscored a pressing concern: the imperative of proficient IT asset management.
In our whitepaper, we delve into the vital importance of IT asset management and the strategies to effectively confront its challenges. Claim your free copy of our whitepaper today and ensure you remain at the forefront.
Claim Your Free Whitepaper Today for Insights into Intelligent IT Asset Management
Over 400 Companies, Schools and Cities Rely on Timly
Optimise Your IT Inventory Management
Manage your IT inventory seamlessly, from anywhere. Experience effortless inventory control and digitisation with Timly's cutting-edge capabilities.
Manage All Assets
Whether IT resources, tools, machines, vehicle fleet, furniture or contracts: everything in Timly.
Mobile Available Everywhere
Localise your assets with the integrated barcode scanner for smartphones & tablets.
Clever Assignment
Easily assign assets to people, projects, rooms, locations or external service providers.
Digital File Management
Digitally store important information, files, documents, audit trails & contacts for your assets.
GPS Recording
Save the exact GPS location of your assets with one scan. All GPS data historically verifiable.
Recommended Read from Our Blog
In a digital world, IT asset management goes beyond simple cataloguing. It covers a spectrum of tech assets, from hardware to software licenses, enhancing efficiency, reducing costs, and driving growth.
We are thrilled to unveil our newest partnership with Lansweeper, a market leader in automated IT inventory and network management. This collaboration bolsters Timly's 360° asset management solution, offering more value to our customers.
Being prepared for the future when it comes to IT inventory management is an important prerequisite for being able to cope with upcoming tasks despite tight budgets. Bespoke software helps to use existing resources effectively.